Recreation · rec-re-a-tion · (wrek-ree-aay-shun)
n. 1. Refreshment of one's mind or body after work through activity that amuses or stimulates; play. 2. The act of recreating, or the state of being recreated; refreshment of the strength and spirits after toil; amusement; diversion; sport; pastime. 3. an activity that diverts or amuses or stimulates.
---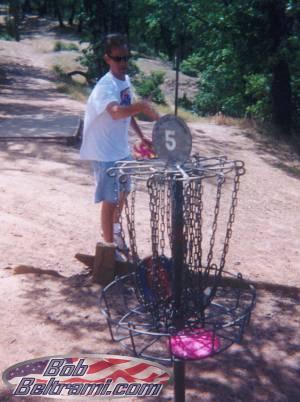 There's one little problem when you make your living working with computers and technology. You usually sit in a chair under fluorescent lighting in a climate-controlled building. I love my job, but there's only so much fake light and recycled air a person can take. As a result, Trish and I try to get as much sun, fresh air and outdoor exercise as we can.
In the picture on the right, taken at the Low Gap Park here in Ukiah, my disc is just hitting the basket as we play a round of disc golf on a windy afternoon. We try to play at least a couple of rounds every weekend, often with our friends Benj, Tim and Trey. The Low Gap course is built over some hills, so it's a pretty good hike and a round only takes about an hour and a half to play. The course itself is very challenging, but still fun for beginners and the park provides a beautiful setting year-round. There's another course at Lake Mendocino. Trish and I are both members of the Profressional Disc Golfers Association (PDGA) and have played in the Northern California Championships.
When we have the opportunity, we try to get away and do some camping, which usually involves a lot of relaxing, swimming, eating, fishing, kayaking and beer. Our favorite camping spot is Lett's lake in the Mendocino National Forest, because it is remote and beautiful, the water is great, and it takes a 4x4 to get there from the Mendocino / Lake County side (unless you're nuts). The four-wheeling is always a blast. We have a spot where we stop along the way and take in some (safe) target practice with the firearms, too.
I've developed a passion for racing, even taking the Mustang out on the race track at speed.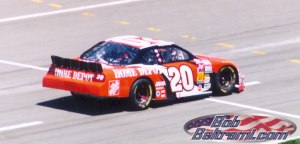 In addition to playing, we also spend time as spectators at a variety of professional sporting events. For example, we've attended NASCAR Cup races and an IRL Grand Prix, Oakland Raiders NFL games and Oakland A's games. A local group of baseball enthusiasts (AKA GUAMRL) meet as a fantasy league every 3 weeks during the season.
We've visited Sears Point (infineon Raceway) in 1998 and 2002 for NASCAR and were back in 2006 for the IRL race. In 2003, we met up with a group of sim racers and attended the Napa 500 together at the California Speedway.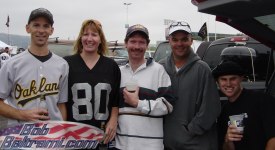 In 2002 we attended an A's regular season game and game 5 of the American League Divisional Series. In 2003 and 2004 we bought into A's season tickets (nine and ten games, respectively), which included Game 2 of the ALDS in '03 (a victory over Boston) and games against the Giants, Mariners, Angels, Rangers, Devil Rays, Yankees and others. The picture below was taken during a Giants game as Barry Bonds hits a pop-fly for an out. We managed to attend several games in '05 and '06, but not as season ticket holders, .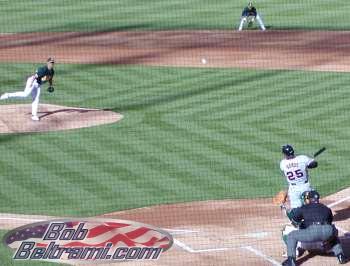 At some point, Trish and I decided that we would like to try to catch a game at every ballpark in Major League Baseball. So there's a page for the ballparks we've visited so far.
On the NFL side, we've attended a few Raider games at the Oakland Coliseum: '96 versus the Jacksonville Jaguars, '97 versus the St Louis Rams, '99 pre-season versus the San Fransisco 49ers and a regular season game against the Denver Broncos, a Kansas City Chiefs game in 2000, '01, '03 and '04 games versus the San Diego Chargers and in '07 another game against Denver.
We also have an opportunity to travel every few years. In December of 2004, Trish and I left winter behind and took a Carribean Cruise. In late '05, Trish, Dad and I flew to Italy to see Rome, Florence, Venice and more, and visit family in the north.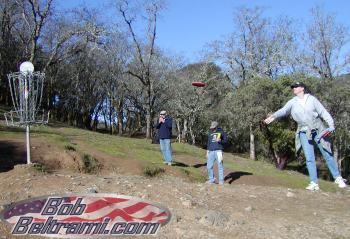 ---
Quick links to Recreation sub-pages:
(In no particular order)