ThunderHill High Performance Driving School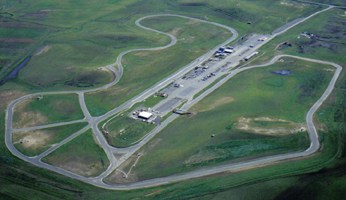 In August '05 we made a quick trip to Willows to visit ThunderHill Raceway Park (official website) and spend the day at the High Performance Driving School. The track is located in the hills several miles west of town. With 15 turns, the track is just under 3 miles long and offers many challenges, including elevation changes.
We arrived at 7:15AM to get into the raceway and complete the registration process. After picking up my helmet, we took the car over to tech inspection (pictured below, left) before heading to our pits (below, right). We were pitted with Mark from the Bay Area who brought his Saleen.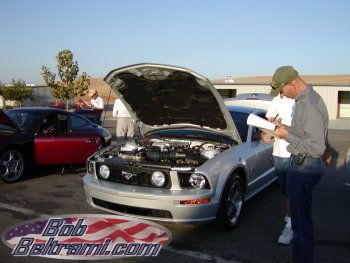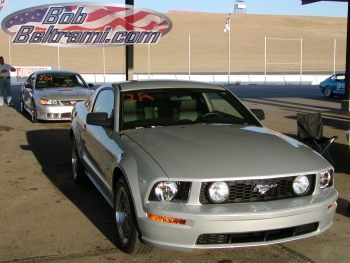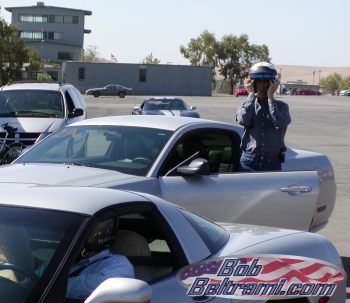 Before heading out onto the track, we attended an orientation session/drivers meeting where the lead instructor, flag man and others got the drivers up to speed on the school, the rules and what to expect throughout the day.
After the meeting we went back to the pits for last minute preparations before we drivers in "A Group" took our cars to the grid. After getting my helmet on I had brief difficulty putting on my glasses (on the right).
Next, it was time to find an instructor. In the picture below, Mark is getting his helmet on as George talks to me through the window in the background. George, from Davis, rode along with me for two sessions and helped me a lot by offering lots of pointers and tips (Like keeping my hand on the wheel, not the gearshift!).
After all the prep was done, we fired up the Mustang and headed for the track, below, right.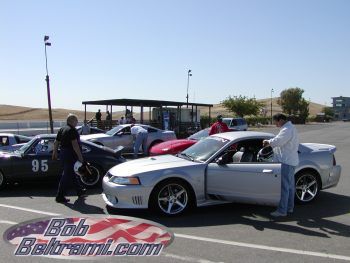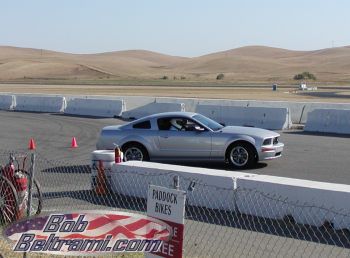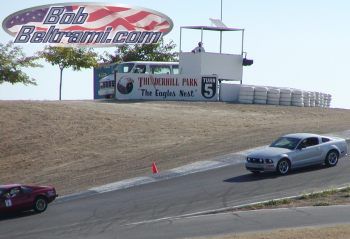 The first laps are not too fast. It's a big track and there is deliberate time spent learning the course and focusing on technique. That said, the adrenaline rush born of the realization that I was running higher speeds with my own car (that I had to drive home at the end of the day) and the fact that we were out there with Corvettes, Porsches, Ferraris and a Saleen was awesome. Let's face it, (see picture, right) how often do you get to chase a Ferrari?
Below, with the track in the morning configuration, I'm chasing a Corvette off of turn 7 as we head out onto the front stretch. The heat distortions evidence the fact that it was a very warm day. The temp hit mid 90's during the day.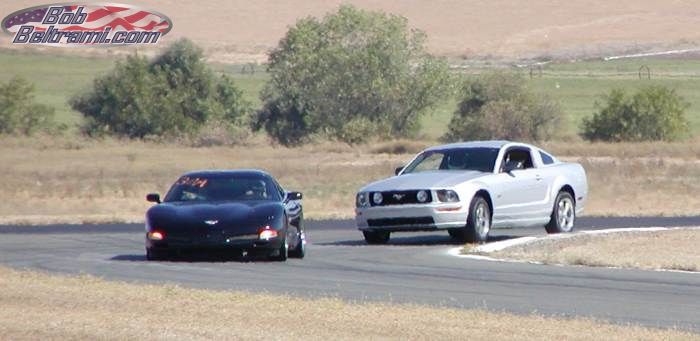 After getting a run out of turn 7, the Corvette waved me by and I moved inside as George and I passed on the front stretch (pictured below, left and right).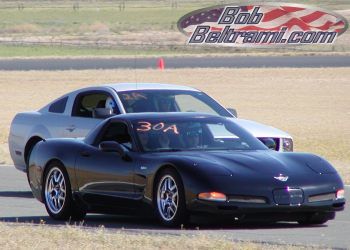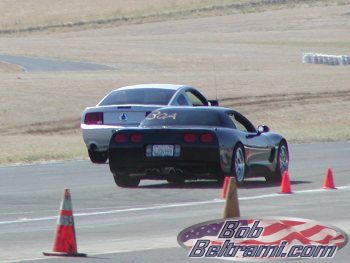 Between sessions, Trish took a shot of Mark and I up at Victory Lane.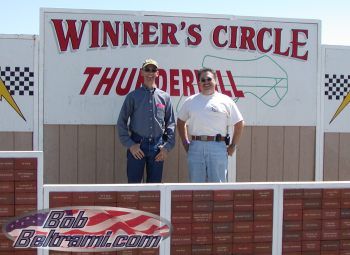 ---
Continue on to Page 2 for more on our day and more pictures.