Disc Golf
Disc Golf is a fun, free way to get some exercise outdoors, have a good hike, work on your hand-eye coordination and enjoy some light competition in the company of friends. Trish and I usually play at Low Gap Park, our "home" course, often with our disc golf partners Benj, Tim and Trey and we manage to get in 2 or 3 rounds each weekend, without regard for weather. We've played other courses as well, both locally and out of the area.
Some of the other courses in the local area include Mendocino Junior College, Lake Mendocino, Willits KOA (you have to pay to get into the KOA, but the disc golf is free), Anderson Valley Brewing Company (a nice course laid out around the brewery, and great beer!) and Highland Springs (in Lake County). We have also played courses out of the area, including Lake Tahoe.
Low Gap, Anderson Valley and Highland Springs are the best around, with Highland Springs offering the most versatile course, with multiple tees, and most beautiful surroundings. Mendocino College is a very long course. However, you have to be a student (or a guest of a student) to play. Anderson Valley is at a brewery... 'nuff said.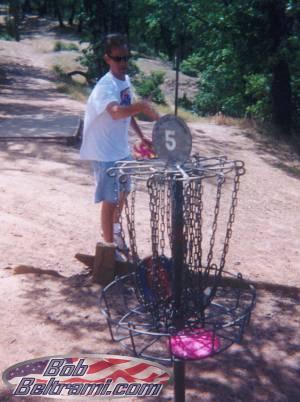 If you've never heard of or played Disc Golf, it is played like ball golf, except players use frisbee-style discs. There are 18 holes and the object is to complete each hole in the fewest throws. Each hole begins at a tee area, continues along a fairway area, and ends at a basket area, the equivalent of the green in ball golf. The basket is very different than the green and hole in ball golf. Each hole ends with a "disc-catching device" commonly using chains suspended above a metal basket, pictured left abd below. When your disc comes to a rest in the basket, you've finished the hole and are ready to move to the next tee. Easy enough, right?
My Aces
1/30/01-Low Gap #18
2/27/01-Low Gap #16
5/12/01-Low Gap #18
5/26/06-Low Gap #15
3/31/07-Low Gap #18
5/20/07-Low Gap #17
6/27/08-Low Gap #5
5/3/09-Low Gap #18
5/8/09-Low Gap #4
7/10/09-Low Gap #7
8/21/09-Low Gap #18
1/14/11-Low Gap #18
6/3/11-Low Gap #11
1/16/12-Low Gap #16
2/26/12-Low Gap #18
4/15/12-Low Gap #18
5/27/12-Low Gap #15
The game is best played with several types of discs, or at least two: A driver for long shots and a putter for short shots into the basket. Discs have very different shapes, flight characteristics and plastic to facilitate their intended use and there are many, many styles and manufacturers available. The driver flies far while the putter only flies a short distance. Some discs tend to fly straight, while others are designed to turn. There are discs for mid-range shots, specialty discs for rollers, hammer shots and other unconventional throws. There are many types and variations of discs available to suit any style of throw and circumstance.
I currently carry eleven discs in my bag: A putter, three mid-range discs and an assortment of fairway and long-distance drivers.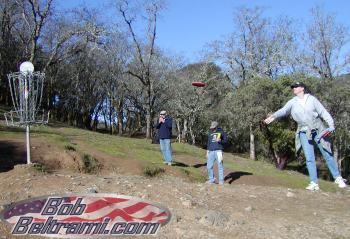 Similar to ball golf, Disc Golf has a sanctioning body, the Professional Disc Golfers Association (PDGA). I am member #30881, an "Advanced Master", Amateur. Advanced Master sounds very Martial-Art Zen and all, but it is simply an age-protected category so that we forty-somethings don't have to compete with the kids. I don't play in many Tournaments. There was a local tourney out at the college in '03 or '04. Then there was our first Official PDGA Tournament, the NorCal Championships in September of '06. We also played the "Ice Bowl" in February 2009.
---