Sim Racing
Table of Contents
---
What is Sim Racing?
Sim (or simulated) racing is the collective term for computer racing games which attempt to accurately and authentically replicate real-world auto racing, including the tracks and vehicles and the physics and dynamics involved. When the software developers get the formula right, the resulting simulation provides an immersive experience so authentic that professional racers and experienced amateurs can hone their skills prior to real-world competition or testing.
In my opinion, simulations are not video games in the classic sense. For example:
In an arcade driving/racing game, a player can jump right into a car and perform acceptably almost immediately. In a Sim, it can be difficult for a new racer to get out of the pits and make a lap at speed, much less a competitive speed.
In an arcade driving/racing game, some bumping and minor contact with the wall are forgiven. In a Sim, bumping can have dire consequences and contact with the wall almost always requires a stop to repair damage, if it doesn't end your race.
In an arcade driving/racing game good performance "earns" larger engines or a turbo or better tires or spoilers or other "upgrade" that in turn provide greater acceleration, increased downforce, higher top speed, more grip, etc. But in a Sim, all the competitors have the same race car, period. It is a driver's understanding of shocks, springs, sway bars, track bar, weight, tire pressures, camber, caster, gears and a lot more and how well he manipulates them that will make the race car faster, along with driving skill.
This is why, in general, sim racing titles are less popular than the arcade style games: A great deal of time, practice and effort is required for a person to be able to race them proficiently and competitively. For sim racers, the payoff comes from the thrill of feeling like one is actually racing a professionally prepared car around the track.
The term Sim Racing does not necessarily imply online racing. However, sim racing online gives racers the ability to compete against each other in real time. This is what makes sim racing so addictive. That and it's the closest most of us will come to racing real cars against each other on a real track.
Why do you Sim Race?
Few people understand my passion (either as a fan or spectator of the "real" sport or as a participant in the simulation) of "driving really fast in circles, over and over." I've come to realize that it's one of those things you either "get" or you don't. I don't know how to explain it, except to say that I love it and I always have.
The intensity of sim racing competition is quite remarkable, and very addicting. And it's really not easy to do well. In fact, it's quite difficult. That's why I don't associate fun with winning or even finishing ahead of other drivers. Yes, winning is rewarding and it's certainly fun. But you have to face facts: There's only one winner each race. So if you're playing to win, you're going to be disappointed a lot. The real success comes in representing myself and the team positively: I want to field a competitive car and drive it clean. I want to minimize or eliminate my own mistakes. I want to be sure not to negatively impact someone else's race. This way, if I don't finish well there's no reason to hang my head. It's a game, the point is to have fun. When I'm able to keep this in mind, the finishes seem to take care of themselves.
I'm friends with my team mates at MountainWest Motorsports. We've shared our passion for racing and sim racing since 1997. We get together online twice a week (or more) and regularly race in the Western States Racing League. We use TeamSpeak that allows us to talk in real time, while we race, as if we were all in the same room. It adds to the strategy, tactics and drama during racing and it allows us to relax and BS about racing, life and whatever when we're on pit lane. Also, every few years we even plan a group vacation together. We've been to a NASCAR Race in Southern California in 2002, spent time on the Strip in Vegas in 2003, spent a week here in Ukiah leading up to Trish and my wedding in 2004 and then returned to Vegas in 2007.
I'd love to race for real, but there are two problems: Injuries and Money. In sim racing, I'll never get hurt hitting the wall or flipping my car. Maybe I'll encounter something like a cramp in my leg, but that's about the worst of it. Furthermore, I won't be spending many thousands of dollars for a race car that I'll have to invest hundreds of hours and dollars wrenching and maintaining. It has been said that the most efficient method for turning money into noise is racing.
What equipment do you need to get involved?
If you asked me, to be a good sim racer you need four things: A competitive spirit, an enjoyment of racing, a lot of patience and the right equipment. I can't help you with the first three, but the right equipment is easy: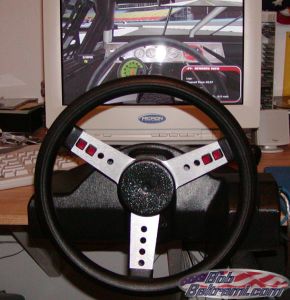 First you need a gaming PC. It doesn't necessarily have to be new stuff, either. As new sims come out, you have to have a PC that can run them. But N2K3 has been out since February of 2003 and doesn't require today's top-tier gaming rig to run. Here's my setup; it's so old you can't even buy many of the parts and it runs the sim very well. Newer and faster replacements are available that are less expensive than my cost for these components:
Intel Pentium 4 2.8 Ghz - 800 Mhz FSB Processor
ASUS P4P800 Deluxe Intel 865 PE Chipset MotherBoard
XFX NVidia Geforce 6800 128 MB Video Card
1 GB Kingston PC 3200 DDR400 RAM Memory
Western Digital Raptor 36 GB 10,000 RPM SATA Hard Drive
Western Digital Caviar Special Edition 120 GB 7200 RPM IDE Hard Drive
Memorex 48x 24x 48x CD-RW Drive
Antec Plus 1080 AMG Tower Case w/TruePower 430 Power Supply
Sound Blaster Audigy X-Gamer Sound Card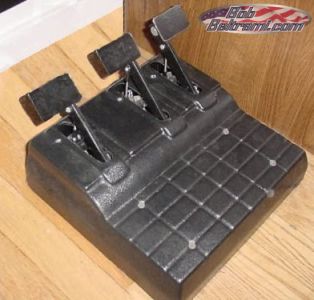 A quality monitor and speakers or headset are really important. In the sim, you can't "feel" the g-forces of acceleration, braking and cornering like you would in a real-world car. However, the software provides audible and visible cues of these forces through the speakers and monitor that a driver can recognize and adjust for, given time and practice.
Obviously, if you're going sim racing, you'll need to get the software. In the NASCAR world, the king since 2003 is Sierra/Papyrus' NASCAR Racing 2003 Season. It has been unavailable through the retail chain for years, but you can get it on e-bay.
In June of 2008, the iRacing service was publicly unveiled. Part racing sim, part massive multiplayer online, part sanctioning body, iRacing is a self-contained sim racing community that offers both oval and road racing. The simulation is amazing.
The last piece of equipment you'll need is a wheel and pedal set. Joysticks and console-style controllers simply don't have the level of precise control required to sim race. If you're new to sim racing, don't break the bank on an expensive wheel. Get a simple wheel available at your local electronics retailer. If you find that you like sim racing and do it a lot, you may begin to wear out that wheel. When that happens, I would recommend replacing it with a Thomas Superwheel. My wheel and pedals are pictured above. Durable, well constructed and precise, they are available in a variety of prices and styles.
My Sim Racing History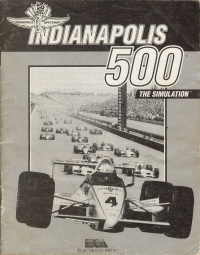 I enjoy auto-racing on TV, but sim racing actually lets me participate in the sport without fear of damage, either to my car or my body. There were no computers when I was young, just gaming consoles like the Atari 2600 and Mattel Intellivision. Later, in college, a few racing simulations were produced for gaming consoles and computer systems. I tried many of them and many other gaming genres, but I always returned to the racing sims.
The first true PC that I owned and raced on was a 286 and the sim was Papyrus' Indianapolis 500: The Simulation, 1989, Electronic Arts (manual, right). Next came Indycar Racing which provided improved game play and many of the tracks on the CART Circuit, except for the mecca of auto racing itself: the Indianapolis Motor Speedway.
In 1994, Papyrus' NASCAR Racing brought stock cars to the sim world and allowed computer users on a local area network to race head-to-head in simulated competition. I gave it a try with some friends and was instantly hooked. It is a lot more fun than racing simulated computer opponents and it is safer and far less expensive than real racing.
In late 1997, when NASCAR Racing 2 and an on-line service called TEN joined together to offer racing via the Internet, my racing obsession and addiction fully manifested: Over the next two years I would log 881 races and over 25,500 laps using the handle, "Buck_Nekid". The TEN service allowed up to 20 people to race against each other. While spending time racing on-line with TEN, I made many racing friends, including three of my current teammates.
It was during this period that I started racing in organized league events. I became involved in OSCAR (the On-line Stock Car Auto Racing League), and the Outcasts Racing League. I also had the opportunity to race against Dale Earnhardt Jr several times, once with Hank Parker Jr along for the ride. At the time, Dale was a rookie in the Busch Grand National Division driving the AC Delco #2. I recall when he told us that he learned how to drive around the Watkins Glen road course in the sim. Then he turned around and won the Busch race there a few weeks later.

TEN has been gone since November of 1999, when NASCAR Racing 3 was released. The team organized and expanded to five members. Since we had never come up with a handle for the group, we decided to choose an official name. After a couple of weeks of creative thinking, voting and tweaking, we decided to call ourselves MountainWest Motorsports.

During the "N3 Days" the Team raced in league events in the Western States Racing League and the Outcasts Online Racing League. Both leagues featured full schedules at a variety of NASCAR tracks, with cumulative standings carried to the end of a season when a Season Points Champion is crowned. MountainWest scored three Championships in 2000: Rob won the WSRL IROC Friday Championship and I won my first: The IROC and Regular Points Championships in the WSRL Monday Series.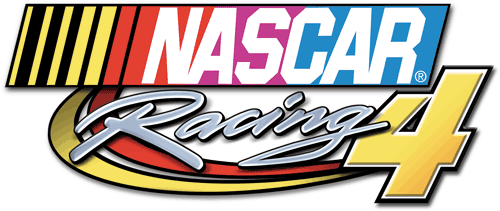 But, all programs get upgrades, and the NASCAR Racing Series has certainly been no exception. NASCAR Racing 4 came in 2001. The software engine used to simulate the experience of driving a stock car was dramatically different relative to previous versions. It was almost too much of a leap forward: It proved difficult to get up to speed in league racing as the physics model was difficult to drive, leading to a high number of cautions and unfortunately less racing.

This resulted in the demise of the Outcasts League, but the WSRL continued. In December of 2001, OSCAR returned after several years of inactivity as the premiere series of the Flashpoint Racing League.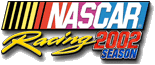 In February 2002 NASCAR Racing 2002 Season was released. The NASCAR cars and teams were updated and some minor improvements were made to the N4 physics model.
In April of 2002 I joined four of my team mates in LA (photo below) when we went to the California NASCAR race with a bunch of guys from the WSRL. From left to right, there's Paul, Doug, Ted, Rob and yours truly. We continued to race in the WSRL through it's seventh season. Flashpoint merged with Onlineracin.com, a membership service similar to TEN that offers it's own servers for a monthly charge. They keep driver and team rankings and hold numerous special events. I raced in the WSRL Friday Series and Flashpoint's OSCAR and FASCAR leagues, which ran on Onlineracin.com.
In November of 2002 the team won 3 more Championships: Doug in OSCAR Sportsman, Scott in OSCAR Firebrand and I won FASCAR Stock. I raced with Doug in Sportsman, finishing second to him by 34 points. Our performances were enough to earn us promotions to OSCAR's Copperhead Grand National Division, where we joined Rob. I was also promoted from "Stock" to the "Semi-Pro" Division of FASCAR.

In February 2003 NASCAR Racing 2003 Season, announced as the final version of the NASCAR sim from Papyrus and Sierra, was released. Once again, the NASCAR cars and teams were updated and some minor improvements were made to the games physics model.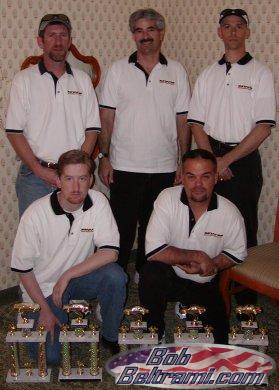 In April of 2003 the WSRL held it's second gathering in Las Vegas. Five members of the team attended, along with a healthy number of WSRL'ers. Paul setup a lot of activities for us all to enjoy, including a trip to the NASCAR Cafe, some racing at a local karting facility and a trip to the Las Vegas Motor Speedway's "Bull Ring" (below) for an evening of live racing action. In the picture (left) the team is together for a brief awards ceremony during the weekend.
Euphoria over the OSCAR and FASCAR promotions was short-lived. The Copperhead Grand National group was incredibly fast and I did not race very competitively with them. Thankfully (for my ego), Thursdays were not a very open evening for me, and scheduling conflicts forced me to set OSCAR aside. Shortly thereafter I resigned from FASCAR and OLR because of what I consider to be overly aggressive/rough driving among the "Semi-Pro" drivers. The positive side is that the change freed me up to race full-time in the WSRL with my team mates. As a side note, at some point since, Flashpoint and OLR split back apart.
In September of 2003, the final patch was released for NASCAR 2003 Season. There were some more physics tweaks and adjustments in the garage to discourage unrealistic setups, but the major change was opening the game code to allow the enthusiast community to make modifications or Mods. This resulted in a number of new racing series and opportunities. Project Wildfire, a studio opened by some of the Papyrus developers, introduced the Craftsman Truck Series, Busch Grand National Series, and Trans-Am and IROC series mods, along with a slough of track updates. Other members of the community developed mods based on the 1988 and 2005 NASCAR Seasons.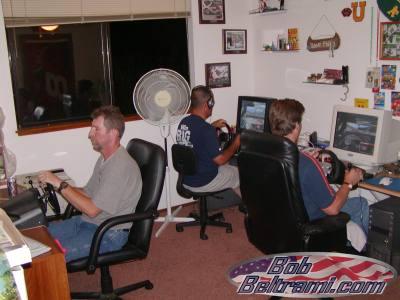 League racing in the WSRL continued and MWM brought home two more championships. Doug won his fourth career championship by leading the WSRL Tuesday standings in '03 springtime. At the same time, over in OSCAR Outlaw, Cory won his first championship. In the Fall/Winter Series, when the schedule drew to a close, Doug took the Championship on Tuesday nights (his fifth) and I won my fourth on Fridays.
On the right, Rob, Ted and Doug are racing on the LAN during the trip to Ukiah in July 2004. The guys spent some vacation time in Northern California Leading up to Trish and my wedding.
The team has continued it's expansion, adding Mark Rediker and Trish to the roster in 2006. Mark sent each of us on the team a surprise around Christmas in '06. A 1/18 scale die-cast (on the left) that he custom hand painted in the scheme of our team cars (pictured on the right):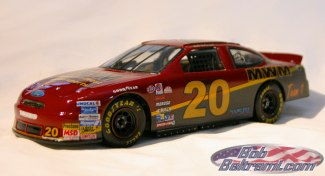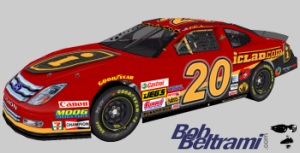 In June 2008 iRacing went online, providing open-wheel and oval racing for sim racers worldwide.
We continue to race in the WSRL.
---
Career Online Sim Racing Statistics
| League | Series | Season | Races | Wins | Laps |
| --- | --- | --- | --- | --- | --- |
| TEN Career | n/a | 1997-1999 | 881 | 151 | 25,554 |
| Outcasts | n/a | 1999* | 15 | 1 | 1547 |
| OSCAR | Firebrand | 1999* | 13 | 2 | 1127 |
| OSCAR | Outlaw | 1999* | 36 | 0 | 3677 |
| Outcasts | n/a | 2000 1 | 32 | unk | 4119 |
| WSRL | Monday | Spring '00 2 | 11 | 1 | 1282 |
| WSRL | Friday | Spring '00 | 12 | 1 | 1490 |
| WSRL | Monday | Fall '00 | 15 | 5 | 1897 |
| WSRL | Friday | Fall '00 | 14 | 1 | 1507 |
| WSRL | Monday | Spring '01 | 13 | 0 | 1104 |
| WSRL | Friday | Spring '01 | 13 | 1 | 997 |
| WSRL | Monday | Fall '01 | 3 | 0 | 361 |
| WSRL | Friday | Fall '01 | 8 | 0 | 636 |
| WSRL | Friday | Spring '02 | 14 | 1 | 1510 |
| WSRL | Tuesday | Fall'02 | 3 | 0 | 267 |
| WSRL | Friday | Fall '02 | 15 | 2 | 1501 |
| FASCAR | Stock 4 | Fall '02 3 | unk | unk | unk |
| WSRL | Tuesday | Spring '03 | 15 | 1 | 1293 |
| WSRL | Friday | Spring '03 | 12 | 0 | 1017 |
| WSRL | Tuesday | Fall '03 | 13 | 0 | 1086 |
| WSRL | Friday | Fall '03 3 | 14 | 7 | 1388 |
| WSRL | Tuesday | Spring '04 | 14 | 1 | 1260 |
| WSRL | Friday | Spring '04 | 11 | 1 | 683 |
| WSRL | Tuesday | Fall '04 | 15 | 1 | 1104 |
| WSRL | Friday | Fall '04 | 15 | 2 | 1315 |
| WSRL | Tuesday | Spring '05 | 3 | 0 | 268 |
| WSRL | Friday | Spring '05 3 | 18 | 12 | 2088 |
| WSRL | Tuesday | Fall '05 | 17 | 5 | 1573 |
| WSRL | Friday | Fall '05 | 15 | 4 | 1293 |
| WSRL | Tuesday | Spring '06 | 17 | 2 | 1895 |
| WSRL | Friday | Spring '06 | 18 | 3 | 1986 |
| WSRL | Tuesday | Fall '06 | 17 | 5 | 1704 |
| WSRL | Friday | Fall '06 3 | 18 | 5 | 2138 |
| WSRL | Tuesday | Spring '07 3 | 18 | 9 | 1713 |
| WSRL | Friday | Spring '07 | 18 | 3 | 2066 |
| WSRL | Tuesday | Fall '07 | 4 | 1 | 363 |
| WSRL | Friday | Fall '07 | 10 | 3 | 922 |
| WSRL | Tuesday | Spring '08 3 | 18 | 8 | 1787 |
| WSRL | Friday | Spring '08 | 18 | 4 | 1821 |
| WSRL | Tuesday | Fall '083 | 16 | 7 | 1665 |
| WSRL | Friday | Fall '083 | 18 | 10 | 1802 |
| WSRL | Tuesday | Spring '093 | 18 | 5 | 1873 |
| WSRL | Friday | Spring '093 | 18 | 6 | 1908 |
| | | WSRL Totals: | 486 | 117 | 50,563 |
| | | Career Totals: | 1,422 | 268 | 80,236 |
* Series run on TEN and stats included in "TEN Career"
1 Rookie of the Year
2 Season and IROC Championships
3 Season Championship
---
Sim Racing in the News
Simulated Racing Provides Real Edge
by Viv Bernstein, NY Times.com, March 5, 2007
The first time Regan Smith raced around Autodromo Hermanos Rodriguez, the Mexico City road course for NASCAR's second-tier Busch Series race today, he knew every bump and turn on the 2.5-mile circuit. He had the line he wanted to drive and knew where to shift and when to push it even before his first practice lap.
How did he know? He had raced an exact model of the track on a video game. But for Smith, it was not merely a game. A rookie Nextel Cup driver who is scheduled to share the No. 01 Chevrolet with Mark Martin this season, Smith is one of several young competitors who are turning to simulated racing for practice and preparation for real races.
"Everybody's doing everything we can to be better," Smith said at his office in Cornelius, N.C., before the season. "If it only helps you for the very first lap that you're on the racetrack, that might give you five extra laps of practice that you don't have to spend trying to figure out how deep you can drive it in or something like that. Every little bit. It's so competitive now that those five extra laps might be the difference in qualifying 35th or qualifying 10th."
Several high-profile Nascar drivers participate in sim racing, as it is called, including Dale Earnhardt Jr., Carl Edwards, Denny Hamlin, Martin Truex Jr., Reed Sorenson, David Gilliland and A. J. Allmendinger.
"I still use it at tracks where I don't feel real comfortable, specifically the road courses," said Edwards, who finished tied for second behind Tony Stewart in the 2005 Cup points race.
Hamlin, who finished third in the points race in 2006 and was the Nextel Cup rookie of the year, credited sim racing at least partly for his first victory, at Pocono Raceway last June. Skill and a well-prepared racecar had something to do with it, too. Still, Hamlin had never visited Pocono before arriving for practice, having raced only the computer model.
"Obviously, it helped him and he put a lot of weight on it," said Mike Ford, Hamlin's crew chief. "I like video games as well. I think the biggest thing in the video games, you learn patience. Because the video games you can get in trouble a lot quicker than you can on the racetrack.
But it is not nearly as costly to crash while sim racing.
"The one thing that you'll never change is when you crash one of those, you hit escape and you start over," Allmendinger said. "I've tried that a couple times so far in a Cup car. You don't get a chance to restart, and the team really lets you know about that.
These days, Hamlin finds himself sim racing mostly for recreation. There are online sim racing leagues in which drivers like Earnhardt, Hamlin and Truex compete. Earnhardt started an invitation-only league.
Many drivers own sophisticated sim racing units that cost thousands of dollars and are designed to mimic the feel of real racecars. The setup in Smith's office is surrounded by a metal frame. It contains a racecar seat that faces a 42-inch flat-screen computer monitor. The steering wheel pops in and out, as it does in a real racecar. The unit also has a stick shift and gas, clutch and brake pedals that can be adjusted for tension to match those of Smith's racecar.
That high-end setup has been surpassed by a sim racing unit produced by Bugeye Technologies, a company in Pacific, Mo., that also makes flight simulators. Bugeye racing units feature a three-panel display that offers a three-dimensional 90-degree view. The professional model costs $9,000. Sorenson bought a Bugeye before the season; Earnhardt said he has one on loan.
Ryan Johnston, the president and chief executive of Champion Motorsports Marketing, said professional drivers in the lower levels and those working to make the transition from other types of racing to Nascar were showing interest in the Bugeye. His company markets the unit to the racing community.
No matter how sophisticated the unit, all agree that there is only one computer program that is accurate and realistic enough to use for real race practice. The Nascar Racing 2003 computer game by Papyrus has every Cup racetrack from that season and allows players to make detailed adjustments in tire pressure, camber, shocks and springs. The program simulates such realistic concerns as tire wear and the loose and tight handling of a racecar.
The 2003 edition can also be upgraded with patches found on several Web sites. Smith said he downloaded the Mexico City road course, then drove a few hundred game laps before his first race there in 2006.
"It helped me a lot," Smith said. "I was comfortable the first lap on the racetrack."
Unfortunately for sim-racing drivers, that game is no longer produced for computers. It is a hot commodity on eBay, where a used Nascar Racing 2003 game was being offered Friday for $170. Other 2003 racing games were selling for less than $10.
Nascar drivers are not the only ones who want to become better racers with that program.
I'd venture to say there are people out there who have never driven racecars that are really good at those games and can hop into a racecar and be fast," Edwards said. "It's not a sport like basketball or football or something. You just have certain inputs. You sit in a seat and turn a wheel, and you push pedals and you get visual cues."
Does that mean sim racing can someday produce the next crop of driving prospects? Perhaps not. Smith said that nothing could approximate the feel of a racecar on a track.
Not yet.
---
Computers offer SIM-ple way to go racing
By Tom McCarthy, NASCAR.com, July, 29, 2006
All around the country, thousands of drivers sat quietly in their seats, clearing their minds and focusing on their strategies moments before the start of their Nextel Cup race at Pocono.
That's right, their race.
They've either prepared their own cars or had them prepared by others. They've gotten their practice and qualifying laps in. Race officials have the race ready to go, and the drivers are champing at the bit to get started. It's just another typical race day for the fans of simulated racing, or SIM racing, for short.
Calling it a game does not do it justice. It's a genuine simulation of the real thing -- minus the G-forces, the smell of burning rubber and the safety concerns. So true-to-life is the experience that many of NASCAR's top drivers find it a fun way to feed their competitive urges in their spare time.
Martin Truex Jr. has been a SIM racer for about a decade. In that time, he's made the transition from aspiring racer to Nextel Cup driver. Yet he still has a genuine appreciation for the accuracy of SIM racing.
"The way the tracks look, the transitions in the corners, the characteristics of your setup, and the way the car drives is really, really close to the things you face in real racing," Truex said.
The vast majority of SIM racing is based on the NASCAR Racing 2003 software published by Papyrus and developed by Sierra. Though out of production, copies of NASCAR Racing 2003 are still available for about $100 on eBay and other online outlets.
Just like those who race on four wheels, SIM racers take it all very seriously.
"Between testing, qualifying and races for the two leagues I race in, I spend 20-plus hours behind the wheel each week," said SIM racer Jimmy Thompson of Loganville, Ga.
"With all my family and work obligations, I'd never be able to afford the time and money it would take to race an actual car. SIM racing satisfies my desire to race just enough to keep me out of the poorhouse and the doghouse."
To get started, you'll need a PC or a Mac with a strong graphics card, a good quality steering wheel, a broadband Internet connection and membership in one of hundreds of the open- and invitation-only racing leagues around the world.
Practically every aspect of SIM racing is, more or less, an accurate portrayal of a real NASCAR racing experience. Tires lose their grip over time. If your car spins, you'll flat-spot your tires. Hit the wall hard and your race may well be over. Even speeding on pit road earns you the requisite drive-through penalty.
Racing luck is another aspect of SIM racing which drivers must come to grips. You can lose gears, blow motors and be taken out by other drivers. But just like at racetracks across America, rough driving will eventually bring the wrath of fellow competitors.
For drivers who don't have the time or expertise to prepare their SIM racers for each track, there are leagues that require all cars to run with the same fixed setup.
Those drivers with a crew chief's mentality, and more time to prepare, can also race in leagues that allow open setups.
Though not an absolutely exact duplication of the setups on real Craftsman Truck, Busch or Nextel Cup cars, all the modes of adjusting a racecar are available to you.
"I'm all about car setups," Thompson said. "It's a critical part of success in every form of racing, including SIMs. Besides, winning in a car that I've set up is all the more satisfying."
Like the rubber-and-asphalt form of racing, SIM racing is not easy to master. In fact, it's hard. But for SIM racers, the struggle to improve is its own reward.
Actual race wins are just icing on the cake.
---
Trend: On-track success tethered to sim racing?
By Mark Aumann, NASCAR.COM, June 21, 2006
It's not surprising that NASCAR fans play racing video games to get a feel for what it's like behind the wheel of a stock car.
What is surprising is that NASCAR drivers do the same thing -- for the same reason.
Consider Denny Hamlin, who scored his first Nextel Cup win at Pocono. Dale Earnhardt Jr. said Hamlin is one of the best at sim racing.
"Well, when I raced Denny he's really, really hard to beat, to be honest with you," Junior said. "It's not often that I do outrun him in video games. He's a talent.
"He's kind of one of those guys who comes out on the good end. He's got a lot of common sense and he really enjoys what he does."
However, Earnhardt and Hamlin have to tip their caps to a virtual racer from the west coast named Kevin, who may be the best of the bunch.
"Kevin's the best. Denny's right up there with Kevin," Earnhardt said. "I try to jump in there and race when they race, but I don't really practice and test like they do."
"So when I get out there, I'm normally not as acclimated to the track as they are, so I try not to cause too much trouble. If I finish in the top 10, I'm pretty happy. It's a lot of fun, though."
Jeff Gordon agreed. He used a computer setup to prepare for his opportunity to drive a Formula 1 car at Indianapolis a few years ago.
"I've never gone online and raced or anything like that, but I love video games, especially racing video games," Gordon said. "I need to stay away from racing video games because I feel like I do it for real every weekend, but I did do that to get ready for that Indianapolis F-1 ride."
Gordon said the amazing thing about today's computer technology is how close to the actual thing they have become.
"The technology is pretty incredible with the visual effects of video games these days. It's so real," Gordon said. "You get into a video game and it's 'Wow, that is exactly how the track looks. That's exactly what the transition is as you turn in.' "
Gordon said the biggest difference is not having the sensation of being inside the car.
"The braking zones change and a few thing are different with the way the car handles, but you don't feel as many of the bumps and the grip level. It definitely can put a jumpstart in things."
However, drivers like Kasey Kahne and Jeff Burton don't share the same enthusiasm for video games.
"I've really never liked playing video games and probably never will," Kahne said. "Maybe when I have kids or something, I'll get them playing video games and I'll get more involved.
"I just never have been able to do it. My fingers don't work good enough on those little remotes."
Burton's biggest problem is that he's not even the best video game player in his family.
"My 5-year-old can beat me, so if my 5-year-old can beat me, then how good am I, really?" Burton asked. "I don't have the highest-tech technology to get an advantage by playing a video game."
For Earnhardt, playing online isn't just a game.
"It does help. It helps me, it helps Denny," Junior said. "We wouldn't be joking about that. That's a hobby of mine I feel very strongly about, and I wouldn't say it didn't help me if I wasn't serious about it."
---