GUAMRL: Greater Ukiah Area Modified Rotisserie League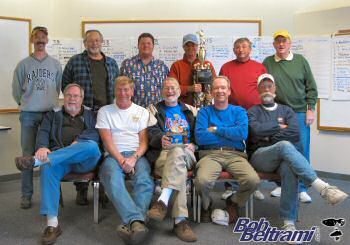 Baseball is back and that means GUAMRL has started another season of Fantasy League Baseball. The ten owners gathered in early April to draft teams and begin the season.
Visit the GUAMRL Website.
---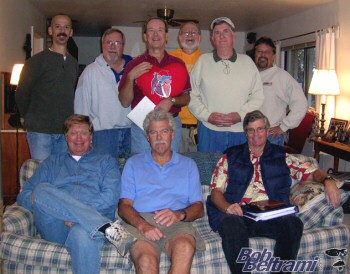 I've enjoyed several seasons with the Greater Ukiah Area Modified Rotisserie League (aka GUAMRL). It's a great group of guys organized by our Commissioner, Keith. On the right is a photo of the 2006 GUAMRL Membership, taken at Keith's house where he hosted the last-inning meeting. From left to right: (front) Tom, John and Brian; (rear) me, Mike, Keith, David, Ron and Mark.
GUAMRL is a fantasy baseball league that uses offensive statistics to score each player, no pitching or defense. Categories are: Hits, Runs, Home Runs, RBIs and Stolen Bases. Team Rosters have 15 players with 13 in the lineup and two on the bench. The Baseball season is broken into 9 innings, 3 weeks each, and we meet at the beginning of each inning to trade/draft/swap players. The draft meetings are held at different participants homes and each member has the opportunity to host.
My best season to date was 2006 when I finished in second place, 10 points behind first (out of nearly 4,000). It was pretty close. Keith had a fabulous season coming from 9th draft position to win the whole thing in the last week of the season.
Below is the Jack R. Turner Memorial Trophy that I won for the Team/MVP Competition in 2005. I did not fare as well in '06 and passed it on to the new bearer, David.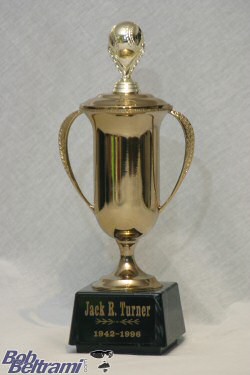 Pictured below right, player stat sheets, rosters, lists and other assorted paperwork are all spread out and the anxiety level is rising as the guys prepare to begin the draft in spring of '06. From left to right: Tom, David, Keith, Mark, John and Brian. Mark was kind enough to lend us his shop, Pardini Appliance, which offered ample space for us to be comfortable throughout the day.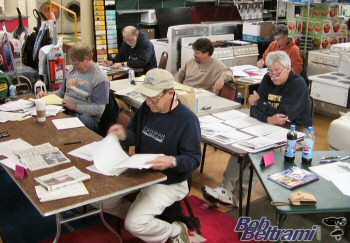 ---