Oakland Athletics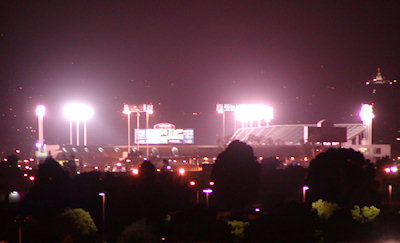 The A's are an American League franchise of Major League Baseball. They began as the Philadelphia A's in 1901, with Connie Mack managing the team from it's birth through the 1950 season. In 1955 the A's began their run in Kansas City before finally moving to Oakland in 1968.
I was a kid in the '70s when Dick Williams led the "Swingin' A's" to World Series titles in '72 and '73 with notables Catfish Hunter, Sal Bando, Rollie Fingers, Reggie Jackson, Dave Campaneris and Vida Blue. The team won the series again in '74 after Williams' departure. In the '80s Billy Martin took the helm as skipper. And in the '90s Tony LaRussa came aboard to lead the "Bash Brothers" of Mark McGuire, Jose Canseco, Ricky Henderson and crew. The late '90s saw the advent of "Billy Ball" as Billy Beane and Art Howe returned the A's to post-season form with the "Big-3" of Mark Mulder, Barry Zito and Tim Hudson leading Jason Giambi, Eric Chavez and Miguel Tejada.
Trish and I were season-ticket holders in 2003 and 2004. And we still make a game or two each season.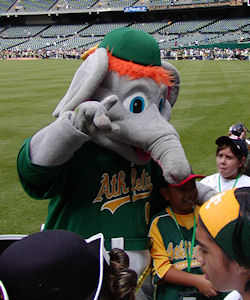 The picture above is field level during a day game. Weather can be hit and miss in the Bay Area. Below is a shot of the Coliseum on a sunny day in Oakland. On the right, Stomper, the A's Mascot, is mugging for the camera with some young fans on picture day.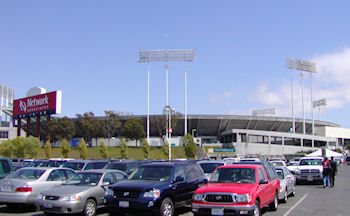 You can click on the daytime panorama photo above to open a larger version (1725 x 402, 275kb).
Or view an even larger night game panorama photo below (2407 x 600, 588kb).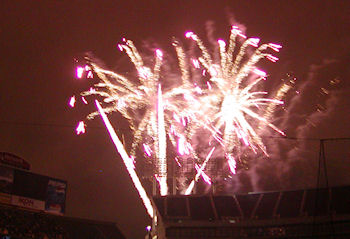 We've also been to a number of other major league ballparks and have a page with some panorama photos of the various stadiums. Visit the official website of the Oakland Athletics for the latest stats, news, information and more.
---