Lake Mendocino Disc Golf Course
If you're coming from out of the area, the easiest way to get to the park is to take the Lake Mendocino Drive exit off of 101 and drive east to the light at State Street. Take a left and then take a right at the next stoplight, Lake Mendocino Drive. Follow the street through calpella and up to the dam, continuing toward the lake. Watch for the sign for the overlook and Disc Golf. Before you pull into the parking lot, you may notice hole 1 on the right.
Here is a satellite photo (courtesy of Google Earth) of the overlook area at the lake with a map of the course overlaid. If you would like a larger version, click on the map. Photos and details for each hole coming soon.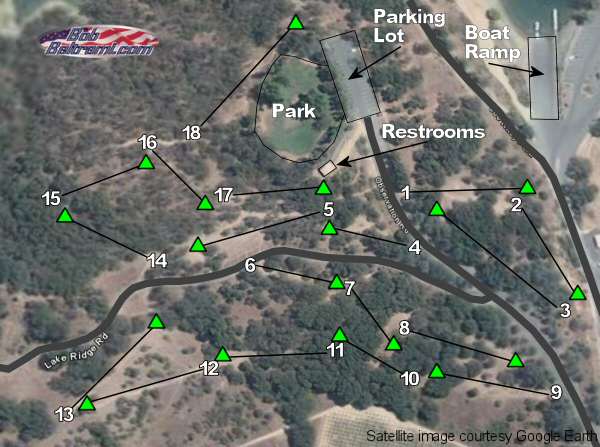 ---
| | | | | | | | | | | |
| --- | --- | --- | --- | --- | --- | --- | --- | --- | --- | --- |
| Hole # | 1 | 2 | 3 | 4 | 5 | 6 | 7 | 8 | 9 | Out |
| Par | 3 | 3 | 3 | 3 | 4 | 3 | 3 | 3 | 3 | 29 |
| Distance | 210' | 178' | 255' | 195' | 329' | 232' | 219' | 243' | 230' | 2091' |
| | | | | | | | | | | | |
| --- | --- | --- | --- | --- | --- | --- | --- | --- | --- | --- | --- |
| Hole # | 10 | 11 | 12 | 13 | 14 | 15 | 16 | 17 | 18 | In | Total |
| Par | 3 | 3 | 3 | 4 | 3 | 3 | 3 | 3 | 4 | 29 | 58 |
| Distance | 195' | 250' | 250' | 280' | 243' | 190' | ? | 222' | 303' | 1933'+ | 4024'+ |
---