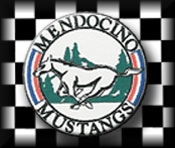 2005 Ford Mustang GT
The Mustang arrived in February of '05. Since it's not a daily driver it spends most of its time in the garage, clean and shiny, waiting for the next run through the twisties leading to Anderson Valley, or Lakeport via Hopland, or a more leisurely run down River Road. There are a lot of great roads in Mendocino County. I try to get her out to stretch her legs on the weekends, even in the rain.
We've made some modifications that are detailed below and have taken it to the track several times. We have joined the local club, Mendocino Mustangs (logo on the right), and attend as many events and drives as the calendar allows.
---
Table of Contents
Quick Links:
---
Our Car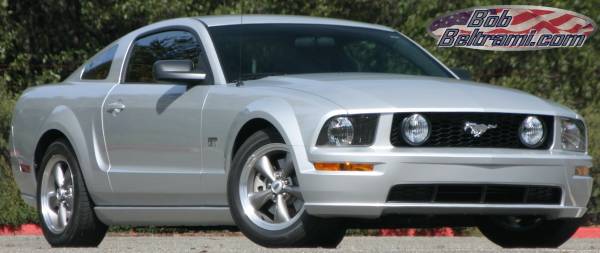 ---
The Story
I always wanted a late 60's muscle car: A Camaro, Mustang, Barracuda, Challenger, etc. There are a lot of reasons why, but I'll spare you the list. Either you know what I'm talking about or you don't. Anyway, I never made it to ownership, but there are a lot of reasons for that, too.
Meanwhile, the older I get, the more expensive the classics are. Since I'm not a car restorer, it would cost a pretty penny to acquire a car in good or restored condition. I've entertained the idea of purchasing a new late-model, but nothing has been "right". I almost grabbed a Camaro during it's last year (2002), but it was just too bulky. Is it just me or were the early years sleeker? I'd love a Corvette, but let's be real. I never liked the SN95 Mustang. And there hasn't been anything new that really had the appeal I was looking for (from Subaru WRX STi to Dodge Magnum and others). So I've continued to hold onto the hope that I would fall into something classic somehow, someday.
That wishful thinking came to an end when I saw the redesigned 2005 Mustang GT on a magazine at the Phoenix Airport in early 2004. The car has classic looks, modern safety equipment and a comfortable interior wrapped around V8 muscle (a 300 horsepower 4.6 liter engine). 40 years of improvements have been integrated into a package that continues a legacy of tremendous value. And no restoration work required.
We ordered our car "Gina" through Gene Locatelli at Ukiah Ford on December 20, 2004. She was built during the first week of February '05 and was placed in a rail carrier for shipment on February 5th. In the late evening on Wednesday the 16th she arrived at the dealership and spent some time being prepped before we picked her up on Friday, February 18th, 2005.
Before Gina arrived I created a Mustang page with pictures, media reviews, a copy of the DORA, a journal of the weeks between the order and her arrival, and more.
---
News, Pics and Mods
Performance Additions
To prepare it for the next track day we've made arrangements for some basic performance modifications to the car.
Starting out with the basics, the Mustang stock air intake (below, left) is too restrictive, basically choking the engine. Replacing it with the C&L "Street" Cold Air Intake (below, right) dramatically increases airflow and adds both horsepower and torque.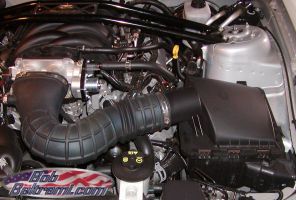 Since the new intake allows so much more air, the fuel to air ratio becomes too lean and the car's computer can react by diplaying an error message or even going into "limp-home-mode". As a result, tuning the computer to take advantage of the new intake is a must if you want to get the full benefit of the increased airflow. For us, the SCT Xcalibrator II pre-tuned for the C&L by Doug over at BamaChips.com was the answer. The tuner works well and the three included tunes allow us to flash the computer as appropriate for different circumstances. There is an 87 octane performance tune, a 91 octane performance tune and a 91 octane torque tune. Doug also creates other octane tunes, but 91 is the highest available locally.
The next performance mod is addition of the Ford Racing Mustang Handling Pack which includes dampers, springs, sway bars and a strut tower brace along with bushings and billet mounting hardware, pictured below. The components, tuned by Multimatic Motorsports and containing Eibach parts, lower the car 1 1/2" which provides a more aggressive stance, increases the car's stiffness, allows better turning and transfers more power to ground instead of flexing the chassis.
Unfortunately, the lack of clearance between the engine to the Strut Tower Brace forced us to remove the Midwest Auto Gear Plenum Cover. But when given the choice between either a performance mod or a visual mod? Well, it's a no-brainer.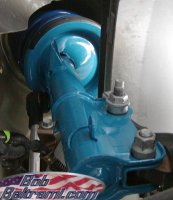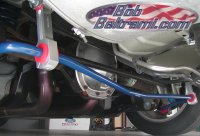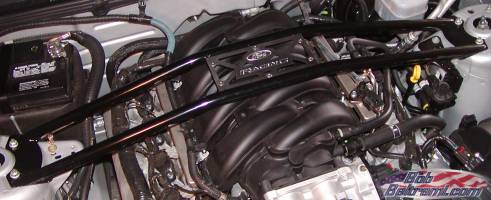 The two photos below show the car before (top) and after (below) the suspension modifications were added.


Since the stock shifter has a relatively long throw, the last performance mod (for now) is the Steeda Tri-ax Short Throw Shifter. It gives a more responsive, positive feel and reduces deflection under hard shifting (hopefully meaning fewer missed gears). The picture on the left is the stock shifter in first and second gears, while the Steeda is on the right. They are only slightly different to the eye. But to the touch, the difference is night and day.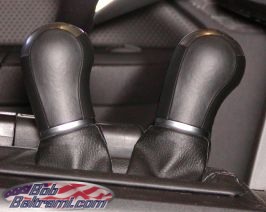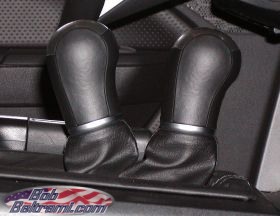 ---
ThunderHill Raceway Park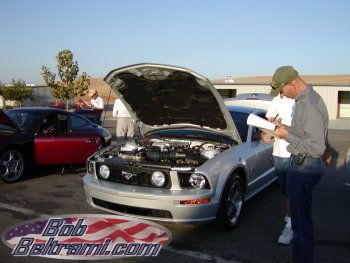 (25-Aug-05) We spent a day in Willows learning about the Mustang's prowess (and my abilities) on a road course, at speed. It was a lot of fun and we will definitely be going back. But next time I'll remember to turn off the traction control!
Check out some pictures, descriptions and more over on the ThunderHill page.
---
Shifters Car Show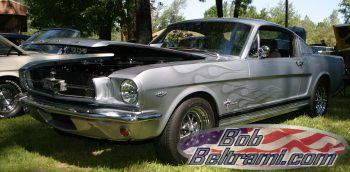 (29-May-05) The Willits Shifters Car Club held their annual show in May. We drove up with the Club and walked in as spectators. Some of the club members participated and entered their cars in the show. Ed and Nan's Silver Mustang (pictured right) won a "Mustang Madness" award.
There were a lot of cars there (perhaps as high as 150?), including the 'Cuda pictured on the 2005 News page with a quick story about the show. We also supported the Willits Lion's by enjoying their pancake feed at the event!
---
New Engine Plenum Cover
(20-May-05) The latest dress-up is installed: A satin silver painted polyurethane plenum cover produced by Midwest Auto Gear. It was very simple to install, requiring removal of four studs, and the process took about 10 minutes.
We took her for a drive out in the vineyards and got the shot, below right, while out in Talmadge.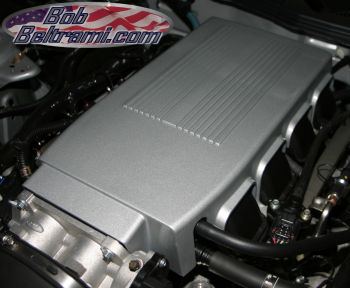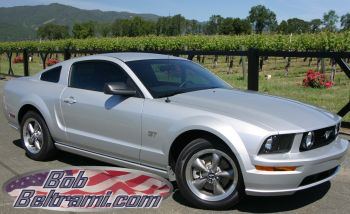 ---
Gallop Around the Bay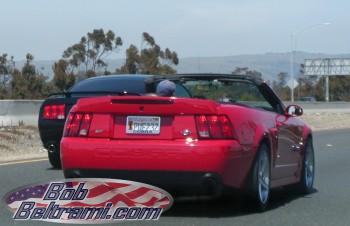 (14-May-05) Daryn, over at The Mustang Source, organized a cruise around the south bay and over 40 cars showed up!
There are more photos over on a page created just for the '05 Gallop. Check it out if you have time.
---
Annual Mustang Car Show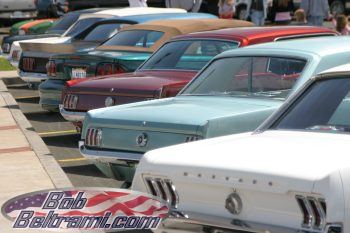 (7-May-05) Mendocino Mustangs hosted it's 18th Annual Car Show on the Saturday before Mothers Day. With nearly forty cars in attendance there was plenty to see, from classics to late models (right).
Below, classic and late model Mach 1's "face off."
Next row down, Mom and Dad made it out to have a look around.
Bottom row, Gina was pretty all shined up and wearing her new spinners. She ended up winning the "Best Late Model" category. The spinners are available through your local Ford Parts Department, part number 5R3Z-1130-AA.
There are a lot more photos over on the '05 Mustang Show page.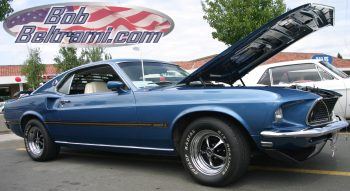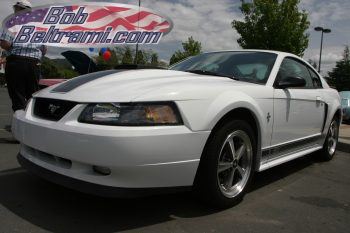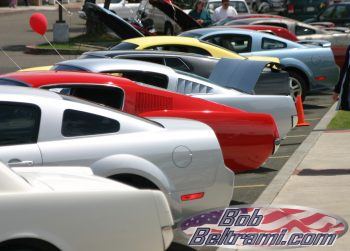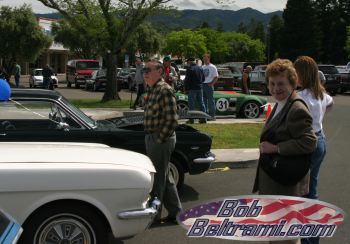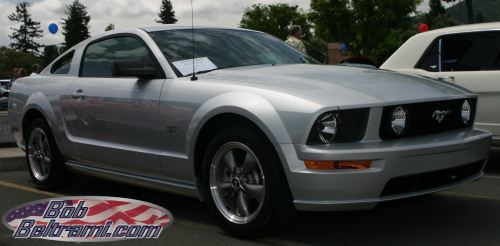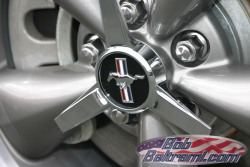 ---
Trip to Napa with the Club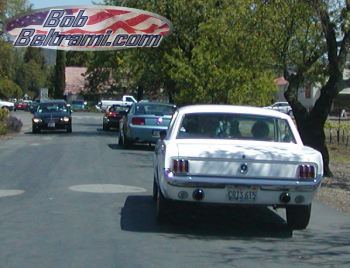 (16-Apr-05) We cruised to the Niebaum Coppola winery in Napa for some wine tasting with Mendocino Mustangs on Saturday. It was a perfect Spring day that was very welcomed after all of the recent rains.
There were six Mustangs in the group, two 05's and four classics, that made the trip through Alexander Valley. We parked together at the winery, below, and went in to enjoy our tour. There are some pictures over on the news page.
I took the shot of the three lead 'stangs, right, out of my windshield as we were leaving Copolla Niebaum.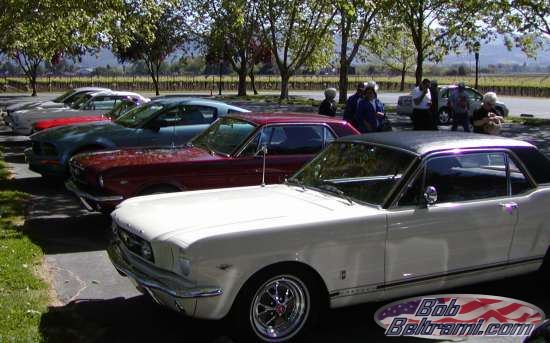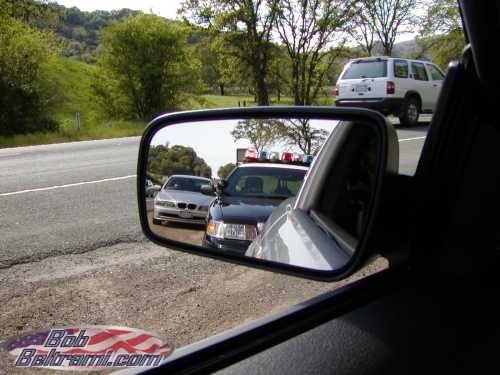 Unfortunately, on the way home (without the others in the club), the lead foot, mixed with equal parts of ego and stupidity, proved costly in the form of a moving citation, courtesy of the California Highway Patrol, captured in the picture, right. A picture speaks a thousand words, eh?
The BMW, seen behind the CHP cruiser, was shadowing us for 30 miles or so as we traveled north on the 101. He was cited, as well.
The citing officer, R. Smith, Badge #16424, was cordial as he approached the car and we briefly spoke.
Thankfully, he did me a favor, writing the citation for 65 MPH in a 55. Traffic school here I come.
---
Spring is Here!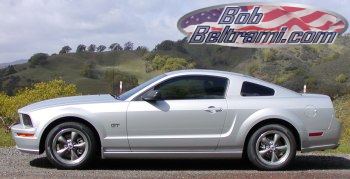 (29-Mar-05) It rained a lot in March but we aren't afraid of getting her wet. Thankfully there was some sunshine, too, around Easter Weekend. So we were able to get a few more pictures around the area. On the right, we were headed up to Anderson Valley when we found a nice spot to pull over. The close-up (below, right) was taken after passing through Booneville, while heading out towards the Pacific Coast and Manchester.
After arriving on Highway 1, we stopped near the Point Arena Lighthouse for the shot below, left.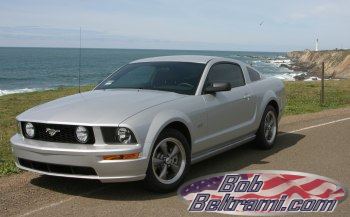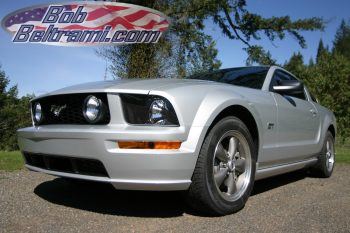 ---
Out for a Weekend Drive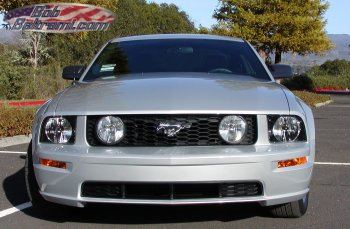 After another detailing, including a claybar treatment and layer of wax, we took Gina out for a drive. The weather cooperated and gave us a beautiful Saturday afternoon in the first weekend of March.
We stopped at a couple of spots and took some pictures.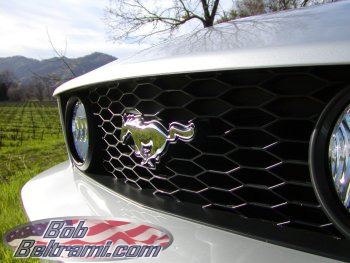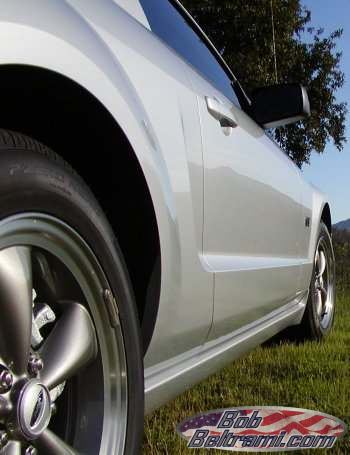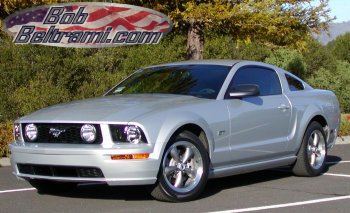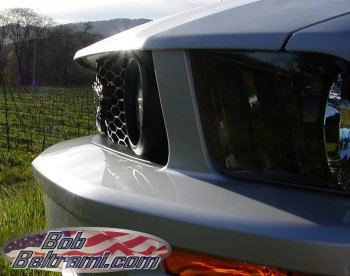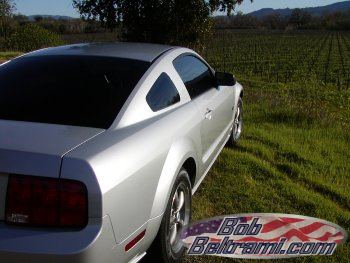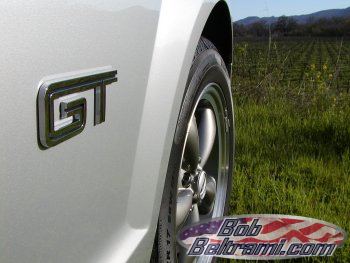 ---
Window Tint and Sequential Turn Signals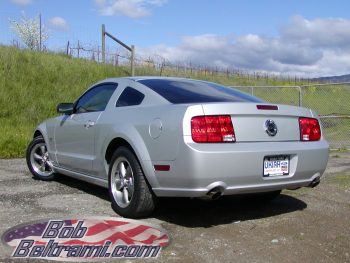 Gina spent the day on February 28th down at Mike's Unlimited for window tinting, the results pictured right and below. We decided on 15% in the rear and rear quarters and the legal limit on the driver and passenger doors. We're very pleased with the results. She looks sharp and should be cooler in the summer months.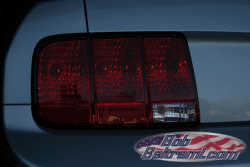 I also ordered and installed the sequential tail light kit from Web Electric Products pictured on the right. The kit was shipped very quickly and is truly easy to install. You simply unplug the existing harness, swap the bulbs to the new harness (Ford OEM, modified by webelectricproducts)and install the new harness. It took about 45 minutes to complete the installation, from start to finish. The kit is highly recommended!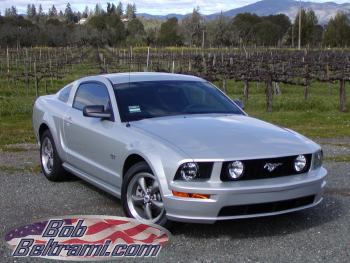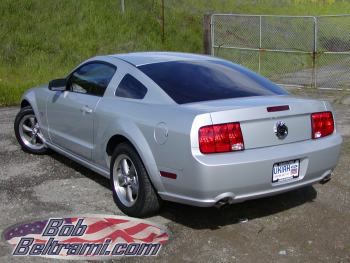 ---
Detailed and Ready to Run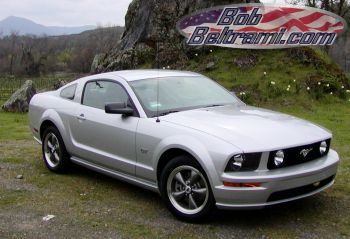 I spent a great part of the last weekend in February laying a couple of coats of Zaino on the paint and massaging Meguire's Medallion leather conditioner into the seats. She looks pretty good and is ready for the rainy weather that is forecast to come along.
I took a trip down to Hopland and back on East Side Road and had a chance to stop and take a few photos, right and below.
I also took a little time to make arrangements for tinting the windows. She goes in to Mike's Unlimited on Monday the 28th.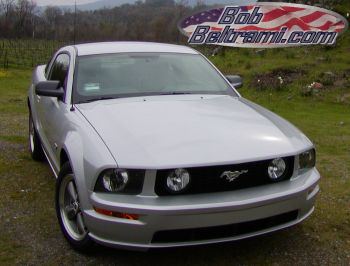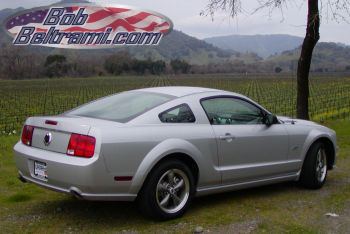 ---
Road Trip!
We took a quick trip to Anderson Valley on February 21 to check out the Booneville Hotel and stretch the pony's legs. From Booneville we went south on a very curvy road to Cloverdale and then returned to Ukiah via 101. It was a fun trip and the car is performing well above our expectations. The two shots below were taken just south of Booneville in Anderson Valley.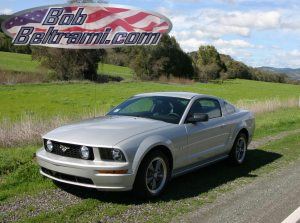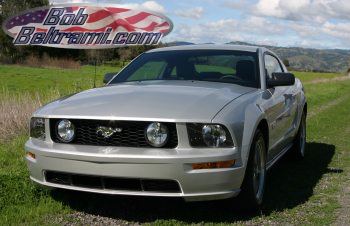 ---
Our First Weekend and Time for a Bath!
In the morning on Friday, February 18th we got the call that Gina was ready to come home. I had a Skate Park meeting at noon and so we had to wait until afterwards. It took about an hour down at the dealership to get everything signed and checked out. When I drove her off the lot she had 8.3 miles on the odometer. After arriving at home, there was time to really check her out in detail. Everything is functional, no parts are missing and both her performance and comfort are amazing.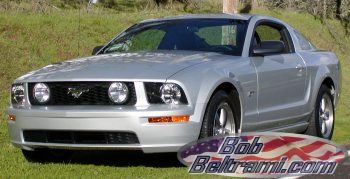 But she's filthy! While she looks clean, running a hand over her surface reveals a lot of particulates in the paint, most likely rail dust contamination. It's no reflection on the dealership; they had washed her. I washed her again and took a claybar to every painted surface and the front windshield. After about six hours of work she was done. The difference is truly amazing. The paint is smoother than glass, more like mercury (a terry cloth towel slides off from the center of the hood). I also rain-x'ed all of the windows and mirrors.
Next weekend comes the Zaino wax and the leather treatment.
Since she now had some protections, we took a drive around the Ukiah Valley from Burke Hill to the Junior College campus and managed to get a few pictures.
As we were driving through Deerwood a white Mach 1 came up behind us and we pulled over, as did he. Turns out that he lives there and was just stopping at his mailbox (Ha!). We talked for a while and we found out that he is the co-President of the local Mustang Club: Mendocino Mustangs. He asked us if we were interested in joining. Talk about fate...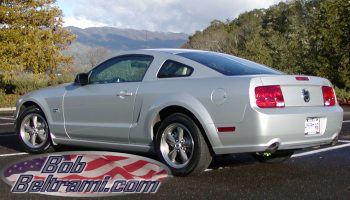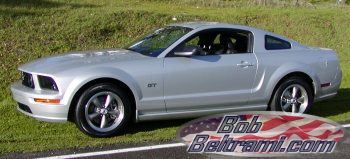 ---
New Arrival
On February 16th I was out of town to a conference for work. I arrived home a little after 6 and opened the garage door to find that Trish had tied a mylar "New Baby Girl" balloon (pictured on the right) in the parking space. She had received a call from Gene, our sales rep, late in the day letting us know that the car had arrived.
Even though we didn't have the car at home, I was excited and wanted to get some photos. So we drove down to Ukiah Ford and took a handful of shots. They turned out better than I expected. You can see on the interior pictures that she is equipped with the Interior Upgrade Package.
She's dirty and still covered with plastic and other protective materials. But she is beautiful in her satin silver skin, dark charcoal leather and bullit style wheels.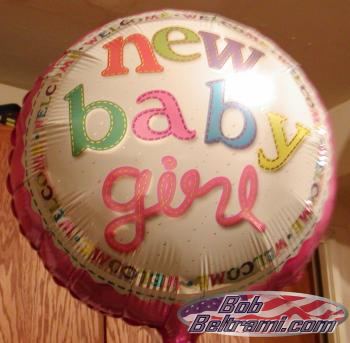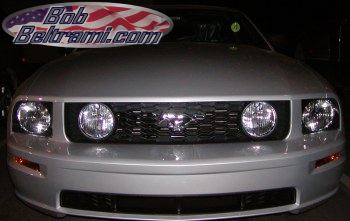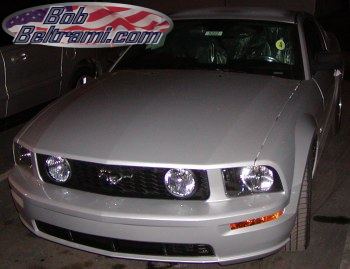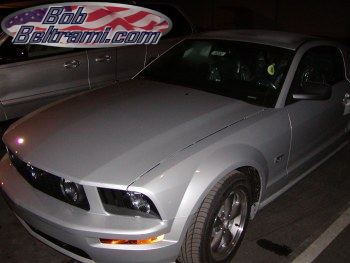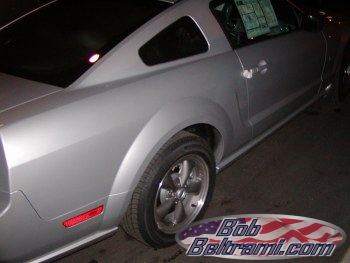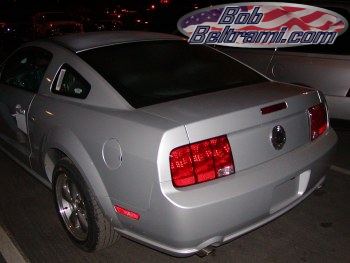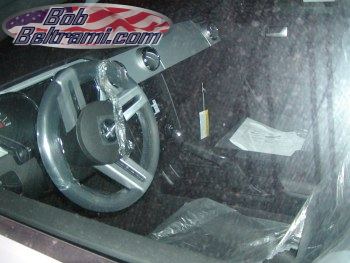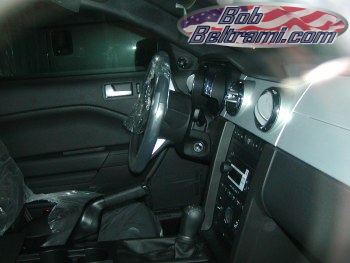 ---
Check out my buddy Ted's '69 Mustang over at his site.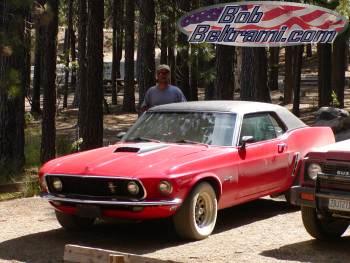 ---