2006 Notes & Updates
---
Merry Christmas and Happy New Year!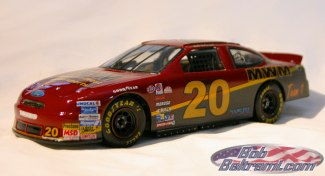 (31-Dec) Trish and I each received a surprise from our Sim Racing teammate, Mark. Without saying a word, he'd undertaken quite a project. He started with scale NASCAR die cast cars, disassembled them and stripped off the decals and paint. Then he painted them and added new numbers and decals to them to recreate the paint scheme on our team cars in the sim. Each member of MountainWest received one. Very nice! Thank you, Mark!
Below, while Trish strings lights and hangs ornaments, Simone stakes out her spot under the Christmas tree. It was her favorite sleeping place over the holidays.
We enjoyed spending this years holiday with family, visiting with both of our parents, exchanging gifts and sharing a delicious Christmas Dinner that Trish prepared. Trish got a photo of the table, below, decorated before we had dinner.
Happy New Year!!!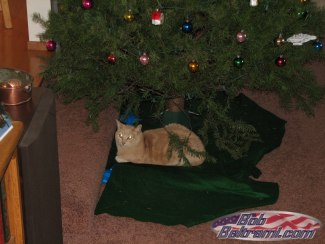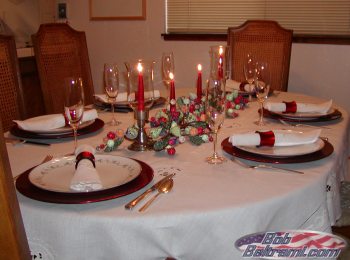 ---
Jacks Passes On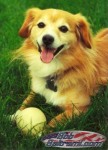 (30-Nov) I was very fortunate in 1993 when I adopted Jacks at the Sonoma County Animal Shelter. He was hopping up and down in his pen and touching his nose to the doorknob at the peak of each hop. Who could say no to that?
We have been on many adventures together, from ocean visits to runs through the redwoods to playing disc golf to four wheeling to days at the lake. But his favorite play was jumping for his ball, pictured below, right. He had an abundance of energy and spirit, and as long as he was coming along (wherever we were going) he was a happy boy.
Our adventure together ended, for now, on November 30th, when Jacks passed away peacefully. He was a very good dog, my furry partner, who has been with me through many times, good and bad. I will enjoy the many memories of life with Jackson Kirby.
"I have followed you on many adventures. But into the great unknown mystery, I go first, Indy!"
- Wu Han, Indiana Jones and the Temple of Doom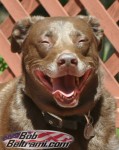 We didn't find out until later that Mom and Dad's dog Hattie passed earlier the same day. She had been battling cancer that had slowly taken its toll on her and Mom and Dad didn't want her to suffer.
Hattie was a very intelligent weimreiner / chocolate lab mix with a very large vocabulary. She loved to sing, which was hilarious and I enjoyed joining her for duets (see picture below, left). When the folks would go on vacation, we would dog sit Hattie and she was always fun, entertaining and very easy to care for.
It was very difficult to lose both beloved pets in one day. But we are comforted that the two of them are together, healthy and strong, playing together until the time when we see them again.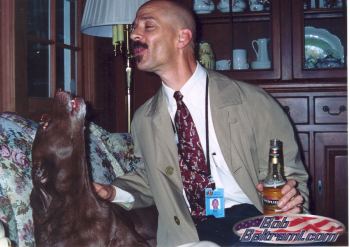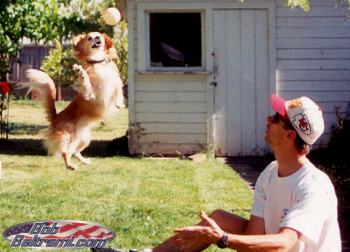 ---
Beautiful Fall in Ukiah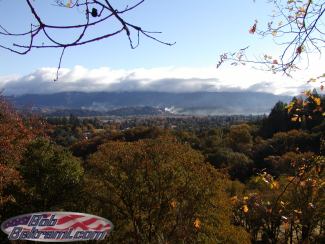 (17-Nov) We've been lucky to have a crisp autumn this year with little rain and all of the colors of fall. I took the camera to Low Gap Park when we went Disc Golfing last weekend and took these photos.
Right, taken from hole 8, is a shot out towards the Ukiah valley, looking east. You can make out some of the fall colors in the foreground hills. The low clouds sitting on the far mountains were beautiful. Below, the chinese pistachio is bright red out in the parking lot by the High School. And below, right, Benj is looking on as Trish throws her drive on Hole 13.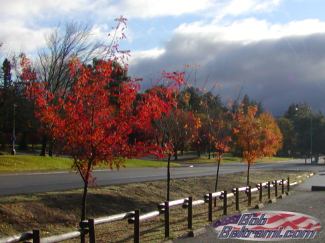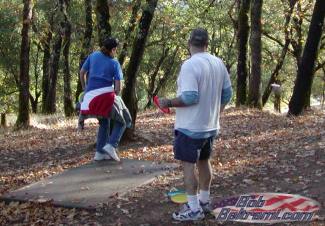 ---
The day we lost Ardie was a lucky day for Heaven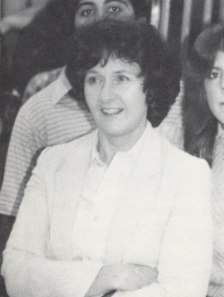 (11-Nov) After an extended battle with cancer, Ardis Campbell passed on October 12, 2006 and was remembered at a gathering at Ukiah High on November 11th. These are pictures from my 1984 yearbook. Ardis was a very special person who touched and influenced many lives. Mine is so much richer because of the friendship, honesty, joy, enthusiasm, humor, wisdom and love she shared. You are much missed, Ardie-dar.
"Grant them the joy which brightens earthly sorrow;
Grant them the peace which calms all earthly strife,
And life's day the glorious unknown morrow
That dawns upon eternal love and life."
-- From Hymn 214 of The Common Book of Prayer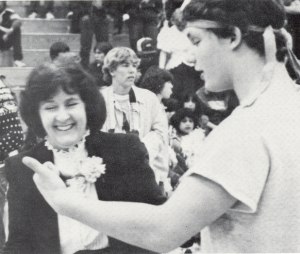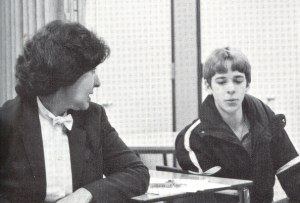 ---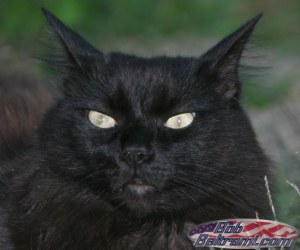 Halloween, Devils and Black Cats
(31-Oct) I glued on the horns this year and put on a black suit with a red tie to wear to work. Trish seemed to think the horns were too real looking and my coworkers said that they were creepy. Mission Accomplished!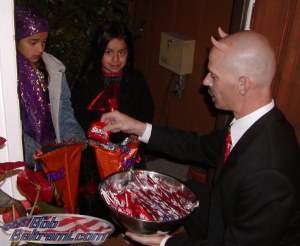 Subway, pictured on the right, had a visceral reaction to the horns. It took him a minute to look at my head and notice. But once he saw them he hissed and nearly whacked himself on the bookshelf in his haste to escape! But he missed. It seems like Halloween is Subby's holiday. He makes a perfect "evil black cat", don't you think?
During the day, I stopped by Social Services for a meeting and found that they were in the middle of a huge costume contest. They made me stand up front, so I got into character, below, left. Below right, Trish got a picture of me as I'm answering the door and intimidating a young pair of trick-or-treaters.
---
2006 Baseball Season Comes to a Close
(29-Oct) My second season with the Greater Ukiah Area Men's Rotisserie League (aka GUAMRL) has just finished. It's a great group of guys organized by our Commissioner, Keith. I finished in second place this year, 10 points (out of nearly 4,000) behind first. It was pretty close. Congratulations to Keith on a fabulous season, coming from 9th draft position to win the whole thing.
On the right is the Turner Trophy that I won for the Team/MVP Competition in 2005. I did not fare as well this year and have passed it on to the new bearer, David.
Below, left, player stat sheets, rosters, lists and other assorted paperwork is all spread out and the anxiety level is rising as the guys prepare to begin the draft in spring of '06. From left to right: Tom, David, Keith, Mark, John and Brian. Mark was kind enough to lend us his shop, Pardini Appliance, which has ample space for us to be comfortable throughout the day.
On the right is a photo of the 2006 GUAMRL Membership, taken at Keith's house where he hosted the last-inning meeting. From left to right: (front) Tom, John and Brian; (rear) me, Mike, Keith, David, Ron and Mark.
GUAMRL is a fantasy baseball league that uses offensive statistics to score each player, no pitching or defense. Categories are: Hits, Runs, Home Runs, RBIs and Stolen Bases. Team Rosters have 15 players with 13 in the lineup and two on the bench. The Baseball season is broken into 9 innings, 3 weeks each, and we meet at the beginning of each inning to trade/draft/swap players. The draft meetings are held at different participants homes and each member has the opportunity to host.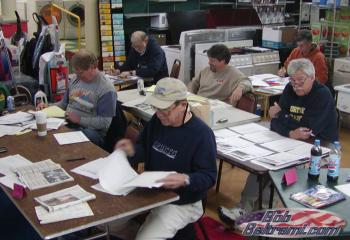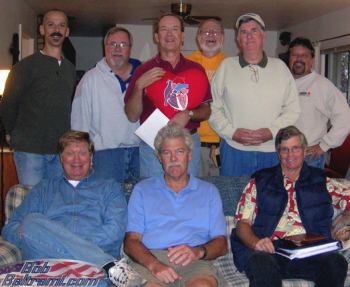 ---
Busy Fall for the Lions Club
(Aug. - Oct.) The Ukiah Host Lions Club has been busy working on various projects and activities this autumn. On the right, a work group applies a layer of snow coat to the roof of the trailer to seal a leak that was a problem this past winter. Rod and Bob are on the ladders as Gary holds the ladder and Chan supervises while Dave mixes another can in the foreground.
Below, Bob, Bill and Gary are working on the grilles as I serve a customer at this year's Annual Pancake Breakfast. The breakfast is one of our primary fund raisers each year, along with the concessions at the Youth Football games (not pictured).
Another annual activity that the club holds it the "Stag Feed." A dinner for club members where we barbeque some steaks and cook up chili, corn and more in a meal for the guys to say thanks for all the hard work throughout the year.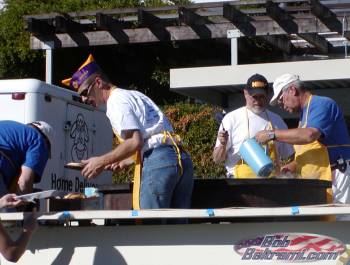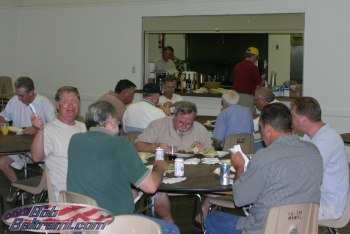 ---
Indy Racing League Grand Prix of Sonoma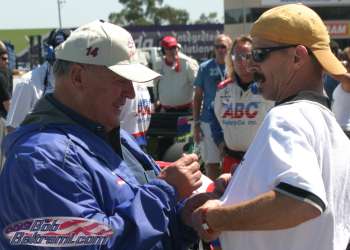 On August 27th I had the pleasure of attending the IRL race at Sears Point Raceway, courtesy of my friend Steve who arranged for tickets and passes and shared them with Trish and me.
Highlights were many, including running into AJ Foyt out on the grid before the race and getting his autograph on my shirt (right). Below, we're visited by Grand Marshall Gene Simmons (KISS). What a great shot. I'm biting my lower lip to see if I'm awake as Gene pats me on the head. I look like I'm going to pop. Below, right, I'm kneeling in front of Danica Patrick's car out on the starting grid.
All totaled, there were over 700 photos on my two memory cards. There's a new page for the event with some of the better pictures here.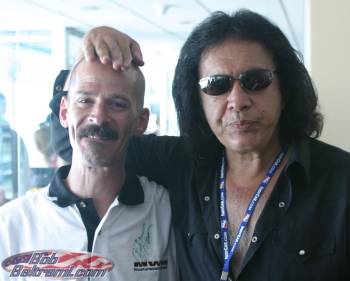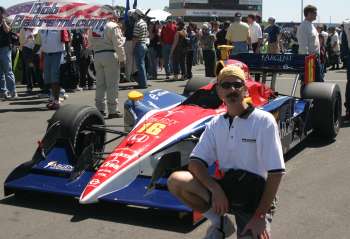 ---
Camping at Letts Lake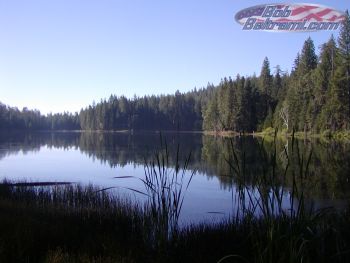 Trish and I enjoyed some time-off up in the National Forest in July. We met Ted up at Letts Lake to enjoy some fishing, kayaking, swimming, rest and relaxation.
The drive through Mendocino National Forest to the lake is always a lot of fun. We chose an alternate route that was challenging and offered some truly spectacular views.
The lake was in good shape and there weren't too many people there. Pictured on the right, the lake is tranquil at sunrise.
A page for Letts Lake has been created with a lot more information and pictures.
---
2006 Relay for Life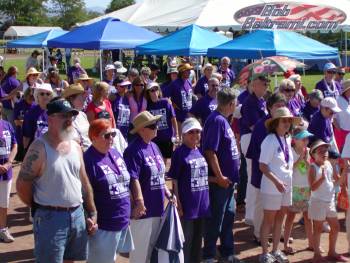 The Inland Mendocino Unit of the ACS held it's annual Relay for Life in June.
It was a blistering day, with temperatures clearing 108 degrees. We tried to be very careful about participants and heat problems, arranging to provide shade and working with the Fire Department who was on hand with a hose to keep everyone cool.
After opening ceremonies the Survivors Lap began (right). Trish was co-chair this year, but it didn't get her any special favors. Below, you can see her in "jail" as she attempts to answer cancer-related questions in a bid to regain her freedom. Visit the Relay page for pictures from this year and previous years relays.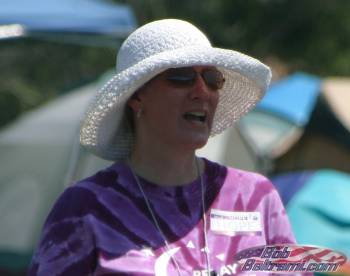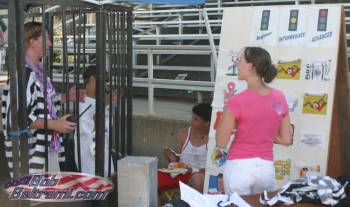 ---
Memorial Day Parade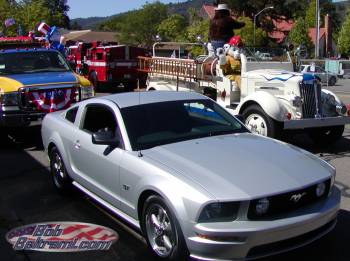 The Mendocino Mustang Club participated in the 2006 Memorial Day Parade on May 29th in Ukiah. It turned out to be a beautiful day, perfect for a parade complete with Fire Trucks, Beauty Queens, Military Veterans and Smoky the Bear.
On the right and below, we're in the staging area waiting for the start. Below, Wendi is waiting for things to get rolling in her 1971 Mach 1.
All in all it was fun to have the car in a parade. But it did make me wish for automatic transmission!
Below, right, Miss Mendocino is riding in the back of a Corvette following the California Highway Patrol.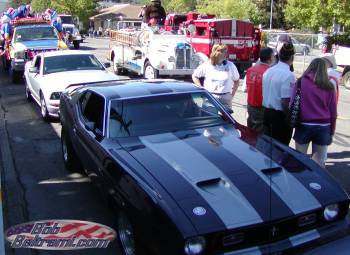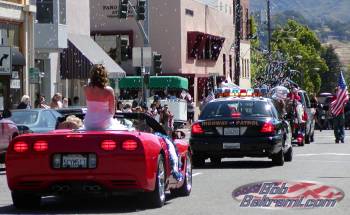 ---
Working in the yard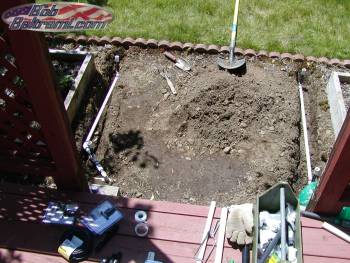 After a lot of thought, we decided to make a few changes in the backyard. First, we wanted to open up a section on the deck to allow easier access to the yard. On the right, the planter and deck screen have been removed and the irrigation is being placed.
We replaced sprinklers in the roses with a drip system and did the same in the vegetable garden. After finishing the irrigation, we laid down a section of deck to act as a step down into the yard. You can see the section in the picture below, along with the flowering pear that we planted to replace the privacy that was lost when we removed the screen.
Below, right, I'm digging the hole for one of a pair of dogwoods we placed toward the rear of the yard.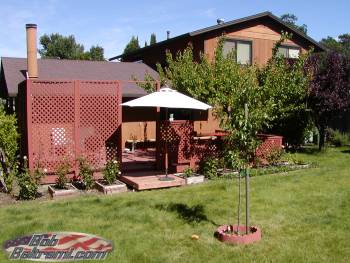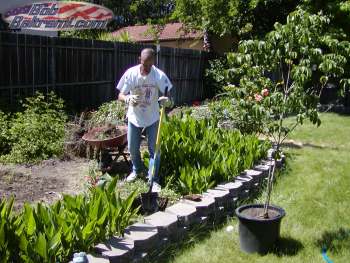 ---
Mendocino Mustangs Annual Car Show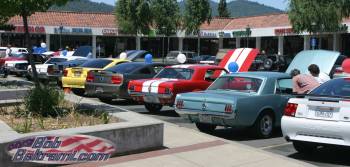 The Mendocino Mustang Club hosted it's 19th Annual Mothers Day Car Show on May 13th. It was another beautiful Chamber of Commerce type of day and there was an excellent turnout, especially considering the other activities in town on Saturday. The club had several new members sign-up and we saw a bunch of new cars participating, including a black SN95 with gull-wing doors that won the Best Late-model Award.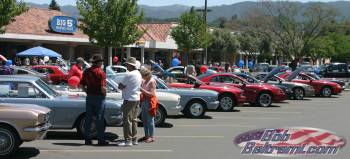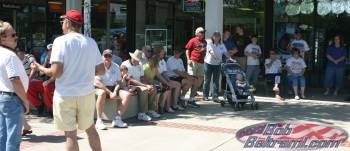 ---
A's vs Anaheim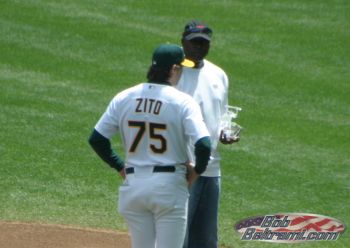 On April 22nd we migrated to the Oakland Coliseum to enjoy the Athletics playing against the Angels.
On the right, Barry Zito greets Dave Henderson out on the mound in a pre game ceremony that recognized Henderson (and Zito) for their contributions to the community.
Dan Haren (below, right) was the starting pitcher and stayed in through 7 1/3. But he had a rough day, giving up 5 earned. Meanwhile Eric Chavez fared no better, with two strikeouts and a pop-up (below) and an error in the field. Now, you have to give Chavey a break. It was one of only five errors on the whole season en route to his sixth consecutive Gold Glove.
Another item on the plus side, Nick Swisher hit his first career grand slam in the 5th inning. Unfortunately it was not enough to get the Athletics into the win column as they fell 5-4.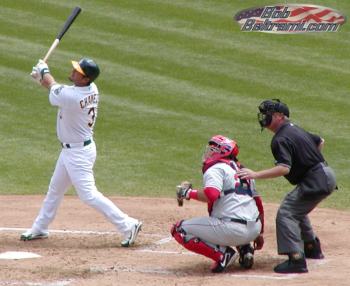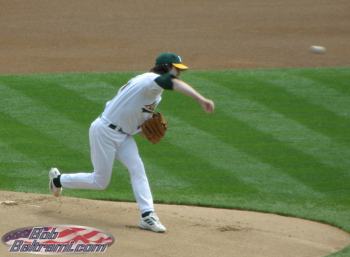 ---
Easter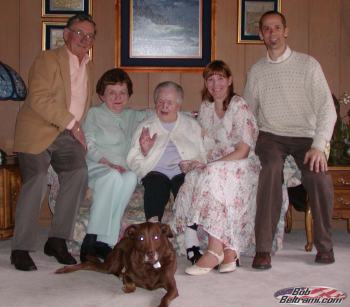 Trish and I celebrated Easter with Noni, Mom and Dad on Sunday, April 16. We took advantage of the opportunity to take a family photo (left). Even Hattie was cooperative and stayed put long enough to get a shot!
Earlier in the day, the Ukiah Host Lions Club held its annual Easter Egg Hunt at Anton Stadium. In the picture below, Chuck has begun passing out some of the 300 dozen eggs to Lions who spread them out across the soccer field, and both baseball fields.
The rain hadn't let up for some time, but it stopped long enough to pull-off the egg-hunt, leaving several hundred smiling children with full baskets and chocolate bunnies.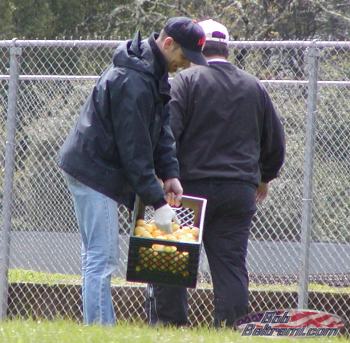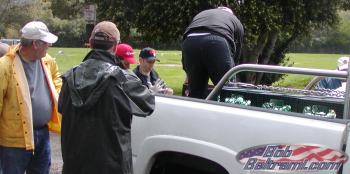 ---
Simone and Subway Join the Family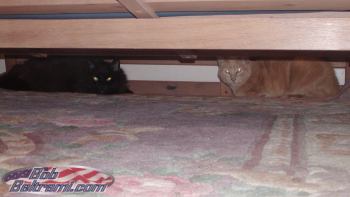 In April, Sam and Skittles were reunited with Simone and Subway. It wasn't the smooth introduction to their new home that we hoped for. Skittles was very ill at the time and Trish was leaving town bound for the East Coast for two weeks on business.
Thankfully it wasn't a problem. The newcomers were more than comfortable under the futon (right). So socialization and learning their new habitat wasn't a big priority. Soon enough, though, they had acclimated and were comfortable both inside and out (below). Subway even learned to use the dog door!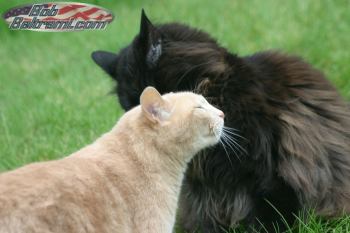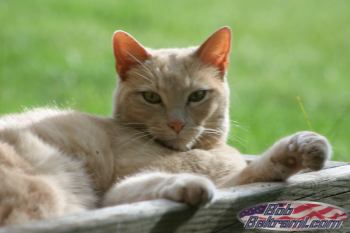 ---
Skittles to the Doctor, Again!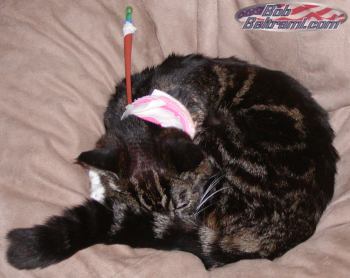 In March, Skittles suddenly lost weight and became increasingly lethargic. Early one Friday morning, during a heavy rainstorm, she came crawling back into the house, soaked to the bone, shivering from the cold and collapsed behind the couch.
We scooped her up in a towel, dried her off and got her straight to the vet. She was down to six pounds, so we approved the insertion of a feeding tube. After testing, the vet determined that she was suffering the effects of a growth on her thyroid gland. We brought her home and began a six-week regimen to feed her, nurse her back to health and find a level for her meds.
On the right, she is curled up sleeping, shortly after her return home from the hospital. Below she is snuggling with Sam. Below, right, during the latter part of her recovery, she is enjoying some sun out in the back yard.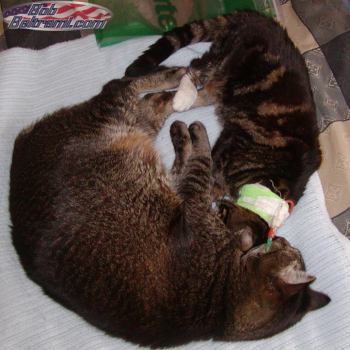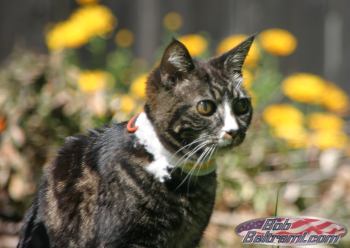 ---
March Snowfall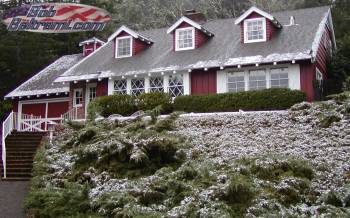 Weird winter weather on March 10th brought a cold front down from Alaska at the same time as a wet-weather front came in from the pacific. The result was a wintry mix of slushy snow.
I started my day at the Low Gap disc golf course where I played a round. It was very fun trying to throw as the snow was coming down in big flakes. By the time I took the picture on the 10th hole (below), it had nearly stopped.
I also stopped in at Mom and Dad's house (right), as they're on vacation. The terra cotta pigs in the back yard (below, right) had a new stripe!