2007 Notes & Updates
---
The Accident
Dad was injured in a single-car accident on Highway 101 on Friday, November 16th as he returned from a conference in the Bay Area. We've created a page with a few pictures, some details and daily updates on his condition.
---
Summer is Here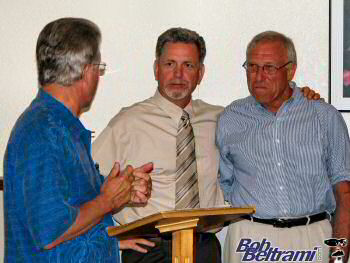 (6-July) Summer has arrived with a vengeance with high temperatures this week nearing 110 degrees. But in addition to the increasing temeratures, the advent of summer brings new officers to the Ukiah Host Lions Club. Pictured on the right, Rick Eversole (left) is installing Mike Schutz (center) and Bob Frassinello (right) as the Club's Immediate Past President and Current President, respectively, during the annual officers installation dinner. Below, the officers and cabinet are sworn in. From left to right: Mike, Bob, Mike Spencer, me, Ron Livsey, Rod Logan, Norm Johnson, Bob Mirata and Tom Mason.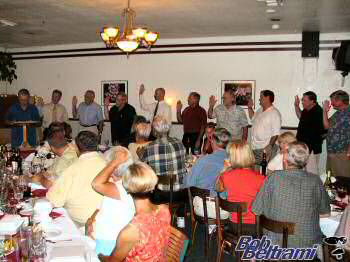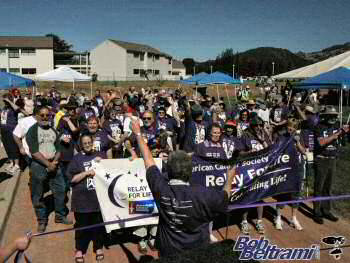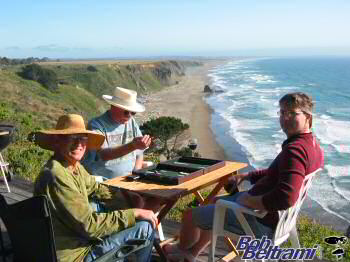 The summer heat is also the signal that the American Cancer Society's Relay for Life is returning. This years event, held by the Inland Mendocino Unit, was co-chaired by Trish and took place at Eagle Peak Middle School in Redwood Valley. Pictured above, right, Cancer survivors are lined up to begin the 2007 event with the "Survivors Lap".
Unfortunately I wasn't able to attend this years GNOMES gathering in Irish Beach, left. Bruce, Tom, Jim, Ross, Joe, Craig and Rich were there and enjoyed the weather and surroundings over the weekend.
---
Yosemite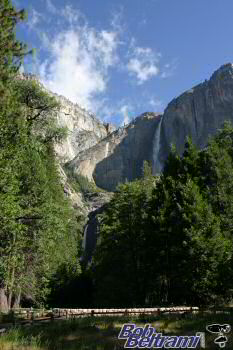 (8-June) Trish and I spent the second leg of our vacation at Yosemite National Park. It's a shame that we only had two full days in the park, as you could spend a full week there and still have a lot left to see. We managed to visit several classic locations, including Mariposa Grove with it's impressive redwoods, Bridal Veil Falls, Vernal Falls and more. On the right, Upper and Lower Yosemite Falls are visible as we hike up to the Lower Falls viewing area.
We were fortunate to be able to take the Mustang on the trip and got a few shots from the Valley floor, including the picture below with Yosemite Falls in the background. We picked the right time of year for our visit, as the crowd was very small and traffic was light. We spent several hours in the Mariposa Grove and didn't see another human until we retuned to the parking lot.
Taken from Inspiration Point, the shot below right is one of the most recognizable natural vistas on the planet. Dominating the left hand side of the picture is El Capitan. Half Dome is in the distance in the center, peeking past Glacier point. And Bridal Veil Falls is on the lower right with Cathedral Peak towering above and behind.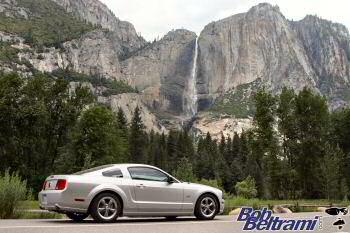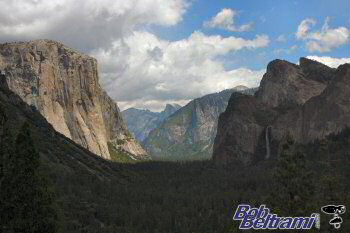 ---
Las Vegas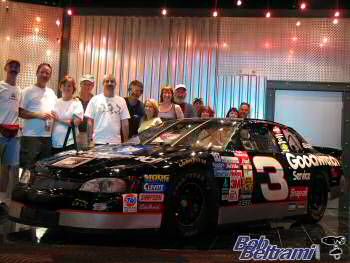 (5-June) Summer vacation is back and we spent a few days in Las Vegas with friends from MountainWest Motorsports and the Western States Racing League. Among the many activities during the weekend, the group went to the NASCAR Cafe to watch Cup Qualifying and wager on the pole position. We also stopped for a quick group shot with Dale Earnhardt's #3 Goodwrench Chevrolet, right.
We also hit the strip and enjoyed the water show at the Bellagio, dinner at Jimmy Buffets, and a good walk. Caesars Las Vegas is pictured below just after sunset.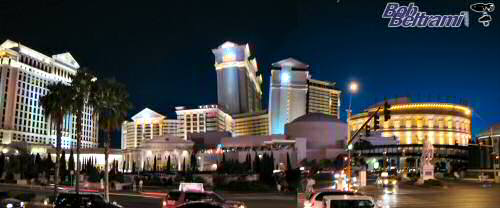 ---
Mustang Show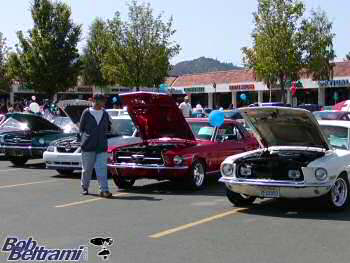 (12-May) The Mendocino Mustang Car Club Held its 20th Annual Car Show on Mothers Day Weekend. We spent a few days getting Gina clean, shiny and sparkling and parked her in a spot for the day. The new S197 Body style, introduced in 2005, really sparked an increase in interest in the Club and the car. This year we had over 50 cars entered in the show, the largest attendance in the event's history! Congratulations to the club officers and members who worked hard and made the event a great success. Both the public and the participants had a fun day.
---
Busy Springtime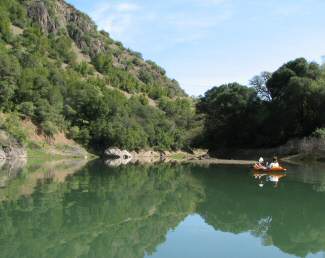 (30-Apr) Winter's last gasp left a light dusting of snow in February. But it has been a dry season and spring came early in March. We decided to take advantage of the good weather and healthy flows into Lake Mendocino and break out the kayaks. Pictured on the right, Trish is paddling upstream in a smooth section of the inlet.
In April, we drove to the coast and went horseback riding at Ricochet Ridge. They offer rides on the beach, but we chose instead to head up into the redwood forest. Below, left, Malika and I have our picture taken while we wait to load into the trailer. On the right, Trish and I stop with our horses while we are out on the ride.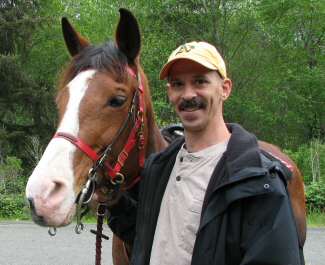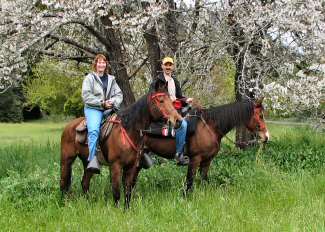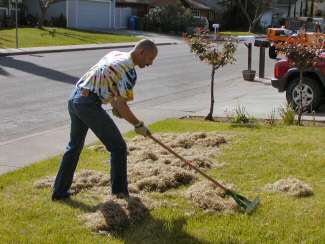 But along with the fun and recreation, springtime brings plenty of work around the house. Yard irrigation has been particularly testy this year, as I've had to fix a bunch of heads and even dig out a broken sprinkler line from under one of the roses, and we've switched out some sprinklers for drip. On the right, I'm in the front yard using a thatching rake to pull dead grass clippings up. This allows more water to penetrate the soil and encourages thicker lawn growth. While it does clean up the lawn and improve the overall health of the grass, it is hard work to pull that rake by hand. Maybe next year I'll rent a thatching machine!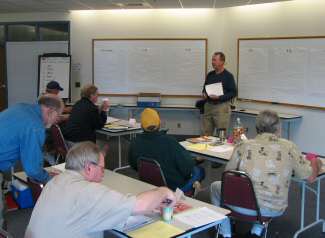 April also signals the return of Major League Baseball with teams in Spring Training and GUAMRL gearing up for another year. The Greater Ukiah Area Men's Rotisserie League (or GUAMRL), pictured right, held it's annual spring draft with 9 franchise owners participating. Our commissioner, Keith, keeps the group going with weekly updates and newsletters throughout the season. And we gather every three weeks at one of our homes to redraft and address player injuries.
---
The Night Life
(26-Jan) Trish and I have four cats. From time-to-time one or more of them conspire to get into the kitchen garbage in the middle of the night. No biggie, just a pain. But they're all pretty cool, so we're not too tough on them.
Last night at about midnight I heard the garbage go over. Something about it didn't sound quite right. But I'd been asleep, so I attributed it to a dream, rolled over and went back to sleep. Unfortunately, a few minutes later I heard it again. I realized that there were table scraps in the garbage and that it was pretty full, so I figured I needed to shoo someone away and take it out to the can. "That's what I get for not doing it after dinner," I thought as I began to rise.
It was at this point that Simone jumped onto the bed and onto my chest. You have to know Simone to realize that this was abnormal behavior. Still in a fog, it only registered as a vague blip in my synapses as I set her on the bed. Skittles was there, too, and Subway came galloping into the room as I was nearing the bedroom door. As I turned to go down the stairs I stepped over Sam, who was staring intently down from the top of the stairs. My brain ignored the fact that all cats were accounted for.
"I realized that coming downstairs unarmed could momentarily cost me my life."
I walked about halfway down when I heard what sounded like a tuna or cat food can hitting the floor with a familiar tinny, metallic sound. But, similar to the sound of the garbage, something about it wasn't quite right. It almost sounded like dishes. My brain, becoming somewhat irritated by these conflicting signals, chose to ignore them and focus on swift justice for the culprit and imminent return to sleep.
I arrived at the bottom of the stairs, came around the corner and flipped the light switch. Looking straight at the area of the kitchen can, I see clearly that there is no cat present and the garbage container is undisturbed. Cool! Unfortunately, my relief is short-lived. It was at this moment that I woke up as I now can clearly hear the sound of dishes rattling. And it's coming from right in front of me. I'm staring straight at where the sound is coming from. But there's nothing there.
My brain is processing a mile a minute. Not quite in a state of panic, I realized that coming downstairs unarmed could momentarily cost me my life. But all of the dishes are in a cabinet above the counter, so I should see a person, and they should have reacted when I turned on the light. Right? So my brain takes an off-ramp and I begin to wonder if we have poltergeists, thinking, "I hope they're not mean." What a dork. Regardless, it was very surreal. Hey, I'd been asleep. That's my excuse and I'm sticking to it.
The dishes are still rattling and I'm standing there thinking, "What the hell is going on here?!" It's not a rattling like an earthquake. It sounds exactly like someone putting away dishes. Reinforcing the the notion of poltergeists, I realize that the sound isn't coming from the cabinet, but further in the kitchen and above eye level. I bend down a little to get a better look, actually imagining that I'm going to see dishes floating.
"I begin to wonder if we have poltergeists, thinking, 'I hope they're not mean.' What a dork."
Since I wasn't expecting it, and I sure wasn't looking for it, it took me a minute to focus and figure out what I was seeing. But sure enough, there on the far side of the room, up on the upper shelf in the garden window is the biggest raccoon I've ever seen. Our cat Sam is big. He weighs nearly 20 pounds and this raccoon made him look like a kitten. It had to be 30 pounds at least. And it's sitting up there perched in the middle of Trish's blued-glass collection staring at me.
So there I am bleary-eyed looking at this big coon looking at me looking at him, and all I can think of is, "Dayum, he's big" when the realization hits me that I've got to get him out of the house. He'd obviously come in through the dog door. But the poor guy must have forgotten, and seeing the outside through the glass figured he'd climb out of the garden window. So I figure maybe I can give him an exit and he'll go. I take two slow steps towards the back door and he reacts with sort of panic-induced spasm, flopping on the shelf like a huge furry salmon which dislodges a single, small, blue-glass bowl that falls into the kitchen sink. This sucker doesn't break and it doesn't shatter. It freaking explodes and glass flies everywhere.
I realize my mistake relatively quickly, back off and he calms down a little.
Meanwhile, the sound of the bowl's demise woke Trish and she's made her way downstairs. We're blearily trying to muster enough brain cells to figure out what the hell to do. Near as I can figure, the coon must have gotten sick of hearing us whining, because about that time it started to make its way down from the window. Problem is, by this time the shelf he was on had come loose and just as he shifted his weight the back came unhinged and it... well, it flipped over.
The panicked coon grabs the edge of the shelf and is hanging there swinging upside down underneath it desperately holding on. Just as I wondered how much of the house would be left in another hour, the entire blue-glass set, formerly on the shelf, smashed down into the sink and counter. The sound was incredible, but the pattern and volume of glass on the floor was amazing. There had been a bottle, margarita glasses, bowls, teacups with saucers, brandy snifters and a candy dish. And now it was mostly little bitty shards all over the sink, counter and floor.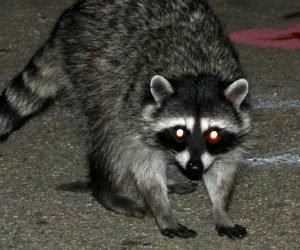 Trish and I are standing there kind of shell shocked, now. I grabbed a broom figuring at this point I'm ready to start cleaning up... screw the coon, there's nothing left in the vicinity for him to break. Thankfully, he jumped down and scooted toward the back door. Problem is, he still doesn't seem to recall exactly how he came in. So rather than continuing straight and going through the dog door, he took a right and detoured into the laundry room. D'oh!
Broom in hand, I manage to sweep a path across the kitchen to the laundry room through the glass and get a peek around the corner... no coon to be seen in the laundry room. Huh? Where'd he go? I grab a flashlight and a shaving mirror and look behind the washer and dryer. Sure enough, there he is. But what now? It's one thing to herd an animal in the general direction that you want it to go. It is quite another to extract an animal that is hiding, dug in and wants very much to be left alone. We need professional help. I sweep, Trish grabs the phone and starts dialing.
Animal Control doesn't answer our call. It's late and we didn't expect to get a live person. Undaunted, Trish dials 911. The dispatcher calmly explains that getting wild animals out of houses is not what Law Enforcement does. The police are very busy and technically a raccoon in the laundry doesn't constitute a 911 emergency. At this point I had to wonder if the racoon was attacking us or stealing silverware, would it be a 911 emergency? But I digress. Thankfully, taking pity on us (maybe they heard me whining in the background), the Ukiah Police Department sent three officers armed with a good sense of humor and animal nooses. It took some strategy and a few attempts, but after a few minutes digging and poking they were able to get him hooked, lift him out the door and release him. The racoon was as happy to be outside and quickly took his leave of the premesis.
A most sincere "Thank You" to Officer Pintane and the two Ukiah Police Officers who responded. I only wish I would have taken a video. It would have been an instant hit on YouTube.
---

Hypno Beer Video
(8-Jan)With a bit of spare time on my hands, I made a quick movie (slide show, really). It's a series of photos that Braden took of himself in 2004 at Trish and my wedding reception. Nothing fancy, just a little bit of fun called, "Hypno Beer".