Dad's Accident
On November 16, 2007, my father was involved in a solo vehicle accident and was severely injured. The following is a page created to update his many friends, long-time coworkers and acquaintances over the course of 78 days that he spent in the hospital.
Contents:
---
A Note from Dad...
To all the many friends who took the time to send cards and prayers and best wishes over the last 3 month travail...
I can never thank you all enough for your encouragement and support during this time of trouble...
Without God's blessing and support from people like you, I probably would not be here writing this note...
And of course, what can I say for my beloved Pat and son Bob and his wife Trish for all their dedication and support in the past 3 months - driving to Santa Rosa Hospital every day for one thing - I probably would not have made it without them...
Again, one realizes how fortunate he is to have friends and acquaintences who support him in time of dire need. I am fortunate to know you...
Since I probably won't be able to contact you all personally, please accept this sincere thank you from me and God Bless You...
- Al
Feb 7, 2008
We would like to express our sincere gratitude to the many people who have called, stopped by, mailed cards and sent e-mails expressing their support for Dad and the Family. Your warm thoughts and well wishes are greatly appreciated during this difficult time.
A very special Thank You to our heroes, the first-responders, the California Highway Patrol, Cloverdale Ambulance Service, the staff at Santa Rosa Memorial Hospital, and especially to Jerry who witnessed the accident and stopped to help. Without your assistance, there is little question that Dad would not be with us today. We are so very grateful, words truly fall short.
CHP:

Officer Steve M. Fricke
Captain Ray Madrigal

Santa Rosa Memorial Hospital

Trauma staff:

Jan Gritch, R.N.
Lillina House, R.N.
Jeanne Close, R.N.
Dr. Hill, Trauma Surgeon
Dr. Huntstock
Dr. Schmidt, Trauma Director
Dr. Cortez
Dr. Steele
Dr. Harding
Dr. Woodbury
Dr. Delisio
Dr. Flores
Dr. Harris
Dr. Harden

Rehab Physician:
Critical Care Unit staff:

Brad, Laura, Lynn, Teri, Carmen, Vicky, Ketty, Lynne, Renee, Donna, Art, Ron, Alice, Helen, Karen, Rob, Nate, Anita and Lisa.

Observation Unit staff:

Henry, Jennifer, Yvonne, Rhoda, Mario and Cindy.

Respiratory Technicians:

Kelly, Michelle, Hector, Dennis, Stephanie, Joyce and Sam.

Physical/Occupational/Speech Therapists:

Star, Louisa, Joanna, Melissa.

Lift Team:

Burly guys who we really appreciate!

Case Worker:

Clergy

Fr. Gary Lombardi, Petaluma Parish
Fr. Ives, Santa Rosa Memorial
---
The Accident
The accident occurred on Friday, November 16, at approximately 11:30AM as Al was traveling northbound on Highway 101, just south of Cloverdale. At the Asti off-ramp the highway turns left, but the car went straight, left the roadway and continued for approximately 100 yards through shrubs and brush before impacting the passenger side on a large oak tree.
A motorist from Southern Oregon witnessed the accident and stopped to lend aid. Dad managed to open the door and and get himself out. The CHP was called and Officer Fricke was first on the scene. Conscious and aware, Al was able to state his name and his birthday among other details as Fricke administered basic first-aid. Cloverdale Ambulance arrived and immediately transported him to Memorial Hospital in Santa Rosa.
Below are four photos, the first two are his car and the two following are of the tree.
In the first shot, taken on Tuesday 11/20, you can see the entire structure of the right front of the passenger compartment has been completely smashed-in by the tree. Thankfully, there were no passengers.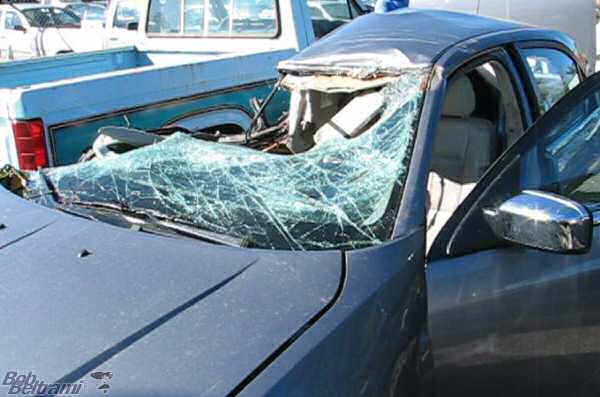 Taken through the fence at the wrecking yard, the bumper has been placed in the back seat by the tow crew, ostructing view of the driver compartment. The damage from the tree between the wheels on the left side is clearly visible. While it looks horrific, the crushing of the passenger compartment absorbed a great deal of the momentum and energy of the impact which would have otherwise been transferred to Al.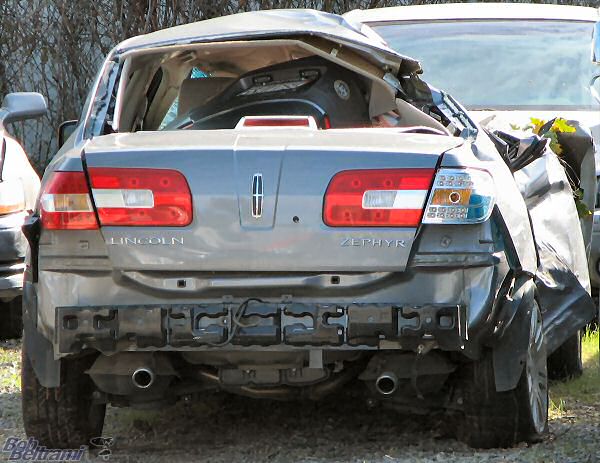 The next two photos are both of the oak tree that attacked him. In the first, the impact point is apparent where a 3' tall area of bark has been cleared from the tree. There is shattered glass in the nook where the crushed limb on the right hangs. And you can see the front windshield under the limb off to the left.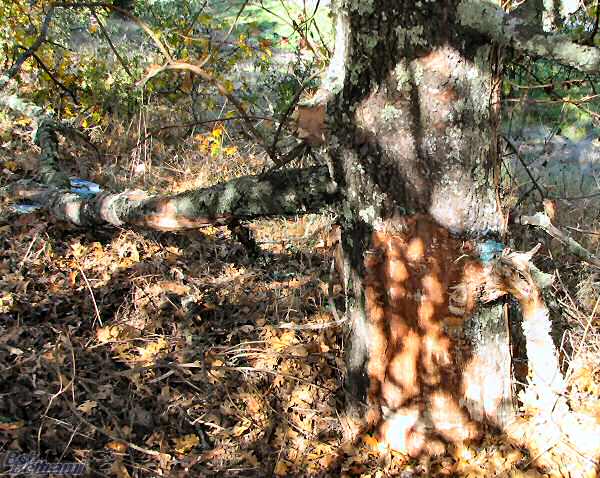 In the second photo taken from a different angle, you can see a fairly stout limb that was ripped from the trunk by the ferocity of the impact.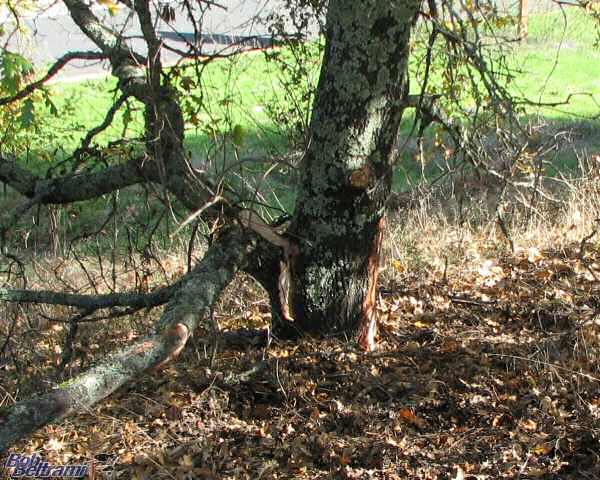 While walking around the scene, we found pieces and parts of the car in the brush and bushes a significant distance past the tree. The lens for the map-light in the passenger compartment, once attached above the rear-view mirror, was found approximately 40 paces from the tree past the point of impact.
---
Al's Injuries
The accident left Dad with a broken nose, a broken right clavicle, one broken rib on the left, and five on the right. He broke two processes on his spine, one on C7 and another on T1. He had severe lacerations to his scalp and face and lost a great deal of blood. On arrival at the hospital, he began to complain that he was having trouble breathing and was intubated immediately. Surgery was performed to repair the lacerations and control the bleeding. He was given four pints of blood at the time and would need another nine before his body would catch up.
He didn't breathe on his own for 12 days, he developed pneumonia and his liver came close to failure trying to keep up with the blood loss and transfusions. The doctors told us several times during those first two weeks that we should prepare ourselves for the worst.
---
Update Archive:
The updates began on day 3, after we returned home from Santa Rosa. They are generally more positive than the real situation:
[Monday 11/19/07 7:56PM] Slow and steady, Al passed the 72-hour mark today. There is still a great deal of swelling from the breast up so he remains on the ventilator to assist his breathing. The bleeding seems to have lessened to a great degree. He seemed somewhat responsive to our presence today, blinking his left eye and moving slightly, but he remains in a state of heavy sedation.
Tomorrow, we have a conference with the Trauma Department Director to discuss his progress and what to expect in the days ahead.
[Tuesday 11/20 6:45PM] Al remains on the ventilator and under heavy sedation. His facial swelling is beginning to diminish as bruising takes on the colors of autumn. He was asleep when we arrived. But by mid-afternoon he was more responsive and reacted to our voices.
We attended a conference with the trauma staff during the afternoon. They foresee a long recovery, including another 4-7 days in the Critical Care Unit followed by rehabilitation. Test results continue to be encouraging.
We were able to visit the wrecking yard and see the car, that gives a better understanding of the severity of the impact. Seeing the car up close, we realized that it is a miracle that Dad is still with us.
[Wednesday 11/21 7:38PM] Each day seems to bring small but positive changes. Al's swelling continues to go down while bruising becomes more pronounced. When we arrived he had just been sedated and was sleeping soundly. In mid-afternoon, Fr. Gary Lombardi visited to say a prayer for the sick. Dad was much more responsive by that time, moving his extremities slightly and opening his eyes.
One of Al's Respiratory Techs stopped by and indicated that he is making good progress towards becoming independent from the ventilator.
[Thursday 11/22 5:15PM] Happy Thanksgiving! Al's swelling continues to lessen and some of the bruising is beginning to disappear, but he remains on the ventilator. We were encouraged by his responsiveness today. Tomorrow he is having a CAT scan to determine the existence or extent of his facial fractures. From those results, doctors will have a better idea about the ventilator situation and the timeframe to move out of ICU.
[Friday 11/23 8:15PM] The results of the CAT scan came back today, showing that Dad doesn't have any facial fractures. We continue to be encouraged by his responsiveness, which increases as doctors decrease the level of sedation and pain medication.
[Saturday 11/24 6:45PM] Al had a rough day, today. He remains on the ventilator under sedation. But, the facial and scalp lacerations continue healing and a few stitches have even been removed. During a brief moment while he was awake, I explained to him that his nose had been broken in the accident, but that he shouldn't worry as it only adds to his Italian good looks. He seemed to manage the slightest smile.
[Sunday 11/25 6:45PM] Dad is still on the ventilator under sedation in the Critical Care Unit. On the positive side, his cuts and lacerations continue to heal. We are very grateful for the many calls, greeting cards and e-mails supporting Mom and wishing Dad a speedy and full recovery.
[Monday 11/26 8:30PM] We met with doctors and staff in the afternoon. Dad is doing as well as can be expected. Doctors performed a tracheotomy this evening to allow his airway and vocal cords to heal from the last 10 days of oral intubation. The doctors are guarded, but positive in their prognosis. We continue to be encouraged by his progress and are thankful for the many professionals on staff at Santa Rosa Memorial Hospital.
[Tuesday 11/27 8:00PM] The tracheotomy went smoothly and Dad hasn't had any complications from the procedure. It was reassuring to see his "unencumbered" face. Doctors are working to keep him comfortable as his ribs and clavicle continue to mend.
[Wednesday 11/28 7:30PM] Encouraging news today. When we arrived, Al was breathing through the respirator without assistance. While we were there Hector, the Respiratory Tech, removed the ventilator equipment allowing Dad to breathe on his own for the first time in more than 12 days.
[Thursday 11/29 7:45PM] Al was reconnected to the ventilator last night to allow him to sleep easier, but this morning resumed breathing on his own. Doctors are working to manage his pain while bringing him out from under the heavy sedation. As a result Dad was more responsive today, showing a greater range of emotion via facial expression.
[Friday 11/30 5:45PM] Late this morning we passed the two-week mark. Dad was close to consciousness today as pain medication and sedation level are decreased. But his ribs seem to be a source of discomfort, so the process of backing down the medication is very slow and Al's moments of awareness are brief before he is back to sleep. He is still being connected to the ventilator during the night to allow for more comfortable rest. But he continues to breathe on his own during the day.
[Saturday 12/1 8:15PM] Dad didn't need the ventilator last night and continues breathing unassisted. The sedation continues to decrease. However, doctors are very sensitive to his comfort and have increased the level of pain medication.
[Sunday 12/2 6:00PM] Al's healing continues and he is no longer on continuous sedation and pain medication. Doctors are hopeful that he will be able to move out of the Critical Care Unit soon.
[Monday 12/3 6:15PM] Dad continues to make progress. He was more comfortable today than over the weekend; a persistent fever broke allowing him to rest more comfortably. We have our next conference with the doctors tomorrow.
[Tuesday 12/4 6:45PM] Overall, Al was much more responsive today, smiling when he recognized Pat and again while listening to Camelot. Fractures continue to mend and many lacerations have healed. Internally, most of the major organs are functioning normally. His liver, however, is in shock from the accident and working sluggishly, increasing his bilirubin levels dramatically. During the conference, doctors made clear that this is Al's next major hurdle and remain guarded in their prognosis. He is expected to remain at Memorial for at least the next 3-4 weeks.
[Wednesday 12/5 7:45PM] Dad's vital signs are strong and he continues breathing on his own, however his bilirubin level continues to increase. He was not aware or responsive during our time with him, but he appears to be resting comfortably.
[Thursday 12/6 6:30PM] Today Al was moved to the "Step-down" Critical Care Unit at Memorial. His bilirubin level appears to have leveled off for the time being, but remains very high and doctors continue to monitor him closely. He was much more aware and responsive today, as his meds have been lowered or stopped altogether in an effort to address the liver issue. We have our next conference with the doctors and staff tomorrow.
[Friday 12/7 6:00PM] Three weeks in... The wounds from the vehicle accident continue to heal, but Al is not yet conscious or aware. Doctors continue working to find the most effective combination of pain medication and sedation to keep Dad comfortable. Although he is in the "Step-down Unit", visitation is limited to immediate family.
There was not much new from the conference. Doctors expect a long recovery starting with the next three to four weeks in Memorial before moving to the next phase of his rehabilitation. His bilirubin went up very slightly overnight and there is still great concern about his liver.
[Saturday 12/8 8:15PM] Doctors are feeling more confident that Al's liver function may not be compromised. His bilirubin level is dropping. Doctors believe this is because his liver is "catching up" with the bruising effects of the accident and blood transfusions. He seemed to be resting comfortably today.
[Sunday 12/9 5:45PM] A very good day for Al, today. His bilirubin continues to drop, indicating that his liver is working to filter his system. He was more aware, and seemed relatively comfortable. Between sleepy moments, he responded to questions (with slight head movements), made attempts to speak and showed a range of emotions. He smiled when he saw Mom and Katy. When asked if he wants to go home to Ukiah soon, he nodded and smiled. Dad's not out of the forest, yet. But all in all, it was a very encouraging day.
He is not ready for visitors and it may still be a while. We'll be sure to let you know by posting information here. It is heartwarming and humbling to receive so many cards, e-mails and calls from Al's friends, fellows and co-conspirators (current and former) that are pulling for his speedy and complete recovery. We are so thankful for your support, thoughts and prayers.
[Monday 12/10 6:45PM] Dad's liver continues to filter the bilirubin out of his system. Similar to yesterday, he was sleepy but his level of responsiveness was encouraging. He answered several questions, nodding or shaking his head slightly. And he enjoyed several Christmas songs, as sung by Nat King Cole. He seemed comfortable and slept for the better part of the afternoon.
[Tuesday 12/11 6:45PM] Al's bilirubin dropped again today and the effects of the sedative seem to be slowly wearing off. His awareness and responsiveness were increased during our time with him. He answered more questions by nodding or shaking his head slightly and made numerous attempts to speak. He was more animated and expressive (feisty, even), and became frustrated that the tracheostomy does not allow him to communicate. He seemed comfortable and slept during the afternoon. It was another encouraging day.
[Wednesday 12/12 6:15PM] Dad's bilirubin continues to decrease. After peaking at over 26 in the middle of last week, he reached 11 today. We continue to be encouraged by his liver function.
While he did not seem as comfortable today as yesterday, his awareness and responsiveness continue to increase. He attempted to speak throughout our visit and continues to be quite frustrated that he can't communicate. But he puckered-up when Mom gave him a kiss, and answered many questions via head movement, including nodding when we asked if he wanted to come home. For the first time we were able to share several of the many greetings that have been sent and he smiled.
Al had another round of physical therapy during the afternoon. They got him sitting up for a few minutes and moving his extremities. For a moment, as he put his hands on the bed, it appeared that he was even going to try to stand. However, he seemed to prefer the prospect of sleep, which he did for the remainder of the afternoon.
[Thursday 12/13 6:45PM] Al slept through our time with him today. Respiratory therapy this morning wore him out, but he made progress. We are hopeful that the progress will continue and the tracheostomy can be removed soon. His bilirubin continues trending downward, falling into single digits for the first time in nearly two weeks.
[Friday 12/14 5:30PM] Dad had physical therapy this afternoon and they had him sitting for approximately 20 minutes. In addition, the bilirubin level dropped again.
We learned today that the mystery witness to Dad's accident is a gentleman from Southern Oregon named Jerry. After the accident, Dad's car was not visible from the roadway. Given his blood loss, there is little doubt that he would not have survived if Jerry had not stopped to lend assistance and contact authorities.
[Saturday 12/15 5:50PM] Not much to report, today. Al's bilirubin leveled off in the 8's, but we hope for a renewed drop tomorrow. He was only responsive for a few brief moments during our time with him, smiling when he saw Pat and puckering up when she kissed him.
Tomorrow marks one month since the accident. Dad remains in the step-down Critical Care Unit at Santa Rosa Memorial Hospital. While many of the superficial wounds from the intitial accident have healed, he is not yet out of the forest. The tracheostomy that assisted him off of the ventilator is still in place. His liver function seems to have caught up with blood products and bruising, but doctors are watching closely. During the first weeks after the accident he had a brief bout with pneumonia and there is renewed concern, so doctors have ordered a culture and chest x-rays. In addition, with the decrease in pain medication and sedation, doctors had hoped to see a stronger return of awareness and response. They also believe he will be in the Critial Care Unit for another three to four weeks.
Please keep Dad in your prayers.
[Sunday 12/16 5:50PM] During our first family conference in November the doctors told us to try and prepare for a roller coaster. After a rough day yesterday, Al was as responsive as we have seen him when we arrived, telling Mom audibly, "I love you" past the trach and attempting to talk for the early part of our visit.
While this was encouraging, he seemed to be laboring to breathe relative to all of our previous experiences. The nurses tried to be reassuring, but after what felt like an eternity to us one of the respiratory techs stepped in, recognized that there was a problem and took action, calling the doctors to resolve an issue with the trach. Afterward Dad was much more comfortable and he slept for the remainder of our visit. As a precaution they moved him back to the main ICU for the night.
[Monday 12/17 6:50PM] Dad had a hard day yesterday, and after being transferred back into the Critical Care Unit our concerns peaked. However, when we visited today Al was relatively alert and responsive. During our previous visits he has been agitated and restless, and has been restrained due to his attempts to unhook himself from equipment within reach. But today he was more aware and did not attempt to disconnect anything while he had his hands free. During our time, he managed to communicate that he wanted a pen and paper and even scribbled a few notes to us. While most of the notes weren't very legible, we were able to make out "I want to go home" and "I want ice cream".
[Tuesday 12/18 6:35PM] In contrast to yesterday, Al was restless and agitated when we arrived today. While he seemed uncomfortable, nurses reported that he was doing very well earlier this morning, speaking a word or two at a time past the trach while respiratory techs worked with him and at one point even joking about Memorial being a "crazy hospital". This afternoon respiratory therapists "plugged" the trach again, allowing him to speak a word or two at a time to us for a few moments, including, "I love you" to Pat.
[Wednesday 12/19 7:30PM] Dad was resting quietly for most of our time with him today as he had physical therapy earlier this morning. The nurses explained that with some assistance he walked several steps toward the doorway of his room which made him smile, and then he spent a few minutes sitting in a chair. During the afternoon the respiratory therapists plugged the trach again, allowing him to speak with us. While sleepy, he used the opportunity to ask about the whereabouts of his wedding ring that had been removed when he was admitted.
[Thursday 12/20 6:45PM] Early this morning, physical therapy again had Al walking. He made it to the doorway of his room and back to a chair. While this is his is very encouraging, afterward he became increasingly agitated and restless. When we arrived he was calming and fell asleep for the remainder of the afternoon.
[Friday 12/21 5:45PM] Dad's bilirubin is down to 5.1 and continues to drop. He continues to have physical therapy in the early mornings. Today he made his way past the doorway of his room and out to the nurses station just outside the door. He also spoke with us for a few minutes after his respiratory therapy, attempting to enlist our aid in a daring daylight escape from the hospital. He also asked about his mother, Annie. Afterwards he fell asleep for the rest of our visit.
[Saturday 12/22 7:30PM] Al had his best day since the accident, awake and aware for the entirety of our visit. The nurses had him up a few times today walking short distances and then sitting in a chair. Stamina is slowly increasing and he seems very eager for therapy sessions and more walking. In addition, with the trach plugged he was able to speak with us for the length of our time with him. His first question to Pat today was, "What arrangements are being made to get me home?"
[Sunday 12/23 6:45PM] Dad was awake when we arrived and we were able to speak with him for a few minutes. Physical therapy wore him out this morning and he spent the latter part of our visit sleeping.
[Monday 12/24 8:00PM] We were in early today for a conference with the staff. Dad's recovery continues slowly. The next hurdle is getting him strong enough, breathing and swallowing, to remove the tracheostomy. Then we can turn our attention to therapy and further recovery.
[Tuesday 12/25 7:10PM] Merry Christmas. Al passed Day 40 today as he recovers at Santa Rosa Memorial Hospital. He continues to undergo therapy to increase physical strength and his ability to cough and swallow, with the desired result of removing the tracheostomy. He was able to speak with us for most of our visit and, between naps, made it clear that he is very impatient to get out of the hospital.
[Wednesday 12/26 7:40PM] Dad had visits from the physical, speech and respiratory therapists who are encouraged by his progress. Again today he was able to speak with us for most of our visit. He is beginning to catch up on news and events, at least what's available while channel surfing on his TV.
[Thursday 12/27 5:45PM] Al's recovery continues and so does his therapy. We met with the rehab physician today. His first priority is strengthening Dad's ability to swallow and facilitating removal of the trach.
[Friday 12/28 6:15PM] Today marks the six-week point since the accident and Dad continues to take small steps toward recovery. We didn't have the timing right today and weren't able to speak with him while the trach was plugged. Legibility of his writing continues to improve. During therapy he was able to swallow several times which is an improvement over previous sessions. Yesterday the neck brace was removed for the first time and can stay off while he is resting in bed. He is frustrated that progress is slow and wants to move to the next step of the process.
[Saturday 12/29 8:00PM] Al slept for most of our visit today. Chats with the nursing staff indicate that his attitude remains positive and that he continues to make progress.
[Sunday 12/30 6:00PM] Dad had a light day today; therapists are off on Sundays. The nurse had him up in a chair for over an hour while we were there. Afterwards, he slept for the last part of our visit.
[Monday 12/31 8:50PM] Al had therapy today and continues to work towards rehabilitation while doctors monitor his progress. Though he is frustrated by the speed of his recovery and wants very much to come home, staff at Memorial are encouraged as they interact with him everyday.
[Tuesday 1/1/08 5:30PM] Happy New Year. Dad had a busy day. His speech therapists are very enthusiastic about his progress as they work on his ability to swallow. A related hurdle is gaining more strength to cough and adequately clear his airway. Doctors are watching both and using caution in deciding on the appropriate time to remove the trach. Physical therapy had him walking further than we had previously seen and he seems to be steadier.
Today, for the first time, a member of the medical staff told us that he has turned the corner.
[Wednesday 1/2/08 6:30PM] Dad had another busy day. Working with speech therapy, he was able to swallow some pudding and thickened cranberry juice. We met with one of the doctors who is monitoring the trach and developing the plan to remove it. Everyone involved seems to be pleased with his progress.
[Saturday 1/5/08 6:10PM] Al continues to make slow, steady progress. On Thursday doctors plugged the trach. Staff have been monitoring him and have noted his steady improvement. He is having to work harder now and tires easily, but he maintains his focus on getting home as soon as possible. If he manages his airway as doctors hope, the trach could be removed this week enabling him to transition to more aggressive physical therapy.
[Wednesday 1/9/08 7:45PM] Dad has had several good days since the Saturday update. Therapists have been working on his ability to swallow food, testing with thickened juice, pudding, chicken salad and even a bit of turkey sandwich. Tomorrow he is scheduled to begin a new diet, and therapists will help him through his first meal in 55 days. In addition, doctors removed the tracheostomy this morning. It took a bit more effort to talk, but he is pleased that things are progressing and smiled as big as we have seen. Observation continues and doctors expect to begin aggressive therapy soon. We hope to have some visiting info to pass along in the Saturday Update.
[Saturday 1/12/08 7:45PM] On Thursday Al was released by the trauma staff at Memorial Hospital and was transferred to an acute rehabilitation facility on Fulton Avenue where physical, occupational and speech therapists work with him for three or more hours on most days. Due to the move, his meal schedule did not start until today. But he did well with chicken, soup, green beans and more and therapists continue to be encouraged. Meanwhile his tracheostomy continues to heal.
[Sunday 1/13/08 7:15PM] Al had a rough day. Complications arose that required his transport back to Memorial Hospital and he can't have visitors. He is scheduled to see an ENT specialist in the morning.
[Monday 1/14/08 8:00PM] The ENT wasn't able to work with Dad until tonight. Al spent the day more comfortable, but under sedation and orally intubated in Memorial Hospital's Critical Care Unit. The difficulty is a mass that has developed in his airway between the trach site and the vocal cords that is causing difficulty breathing. Tomorrow he will undergo a surgical procedure to determine the nature of the mass.
[Tuesday 1/15/08 7:20PM] Al had surgery this afternoon to determine the nature of the mass in his airway and remove it. According to the doctors, scar tissue had formed on and around Dad's vocal cords, blocking 75-80% of the airway. After re-inserting the tracheostomy the doctors removed the scar tissue. He is currently on the ventilator and recovering in the Critical Care Unit.
[Wednesday 1/16/08 10:00PM] We hit the two-month mark today. Doctors have already weaned Al from the ventilator and he is breathing unassisted through the tracheostomy.
[Thursday 1/17/08 7:30PM] Dad spent the greater part of the day out of bed and sitting in a chair. He is not able to speak yet and doctors expect the tracheostomy to be in place through the weekend. He remains in the critical care unit of Santa Rosa Memorial Hospital.
[Friday 1/18/08 8:40PM] Al continues to progress in his recovery. Physical therapy went well this morning as he walked all the way down the hall and back. The therapist is enthusiastic as Dad is very engaged in his sessions. Doctors plan to move him from the Critical Care Unit to the Observation Unit tonight.
[Saturday 1/19/08 9:00PM] Dad made the move from Critical Care to the Obervation Unit. The trach is still in place and does not allow him to speak. But we have become somewhat proficient at lip-reading and when all-else-fails he writes on a notepad. Doctors are assessing his neck to determine if the "minerva" collar can come off for good, which he would welcome. He is also being reassessed by the speech therapists for his swallowing and looks forward to eating again.
[Sunday 1/20/08 7:15PM] Al had a quiet day today. We spent some time answering his questions and talking about local events while watching the NFL Playoffs. Afterwards, he spent the remainder of our visit sleeping. Tomorrow we plan to meet with staff to discuss next steps.
[Monday 1/21/08 7:20PM] Dad was speaking through the trach when we arrived, today. In addition, he does not have to wear the minerva brace any longer. Now he is looking forward to taking steps toward eating again. This morning he had physical therapy and walked the hall. We did not meet with the staff and hope to have a conference tomorrow.
[Tuesday 1/22/08 6:00PM] Al had his swallowing assessment and speech therapists are going to begin his diet tomorrow. He was up and down the hall with physical therapy while we were there, much of the time without the walker. His endurance seems to be slowly building.
[Wednesday 1/23/08 7:45PM] This morning Dad had breakfast of french toast and sausage links with orange juice. Afterward we walked with him to the end of the corridor to get a breath of fresh air and look outside. He is becoming more mobile using the walker when on his own. When physical therapists are with him he goes without the walker. Tomorrow he is scheduled for the follow-up procedure to check his airway.
[Friday 1/25/08 5:30PM] Yesterday Al underwent the follow-up procedure to check his airway for new scar tissue growth and the results were evaluated by an ENT this morning. There is a bit of granulation (scar tissue), however the ENT felt comfortable ordering the trach plugged. So, at 10:30 this morning Dad began the 48 hour clock. If all goes well, the trach could be removed Sunday. Meanwhile he continues physical therapy and has one meal each day with speech therapy.
[Saturday 1/26/08 6:30PM] Dad's trach is still plugged and his progress continues. He seems to be managing well, but had a bit of trouble last night. Today Mom and I met with the speech therapist during his lunch and learned how we can cheerlead/pester him during meals when he comes home. The therapist said we did well and we plan to have lunch with him tomorrow without the therapist.
[Sunday 1/27/08 7:15PM] Al made it through last night without any difficulties and continues to manage well with the trach plugged. The doctors want to give it one more day before removing it. Pat and I were there for lunch as Dad enjoyed a meal of vegetable lasagna, asparagus and tomato soup. Given continued progress and physical therapy, doctors believe that Dad could come home this week.
[Wednesday 1/30/08 6:45PM] On Monday, speech therapists returned Dad to three meals a day. Doctors removed the trach late Tuesday and are watching him closely. They are optimistic about a release on Friday. Stay tuned and keep Al in your thoughts, please.
[Thursday 1/31/08 7:30PM] Doctors and staff continue to aim for a Friday discharge from the hospital and are working with Pat to prepare for his return home. Keep your fingers crossed.
[Friday 2/1/08 8:30PM] After 78 days in Santa Rosa Memorial Hospital, Al was discharged this afternoon. We are so grateful for all of the efforts of the staff in the Trauma Unit, the Critical Care Unit and the Neurology Wing in facilitating Dad's recovery. We have met so many good and caring people, competent professionals who are living testimony that not everything in our health care system is broken.
At Al's request, on our way home we stopped briefly in Asti to view the now infamous oak on the northbound off-ramp. I think it would make excellent firewood. Dad, a Cal Alum, simply pointed and with a wry smile said, "Dirty, dirty Trojans".
He is home tonight, resting, and is looking forward to continuing his recovery and renewing the friendships and activities that he enjoys so much.
---